Do you like Onion Rings? If so, you'll LOVE this week's recipe. It is courtesy of A Chef's Kitchen in Williamsburg.
The secret to success with this recipe is to slice the onion into VERY THIN slices (as thin as you can slice). This is great with steaks or hamburgers.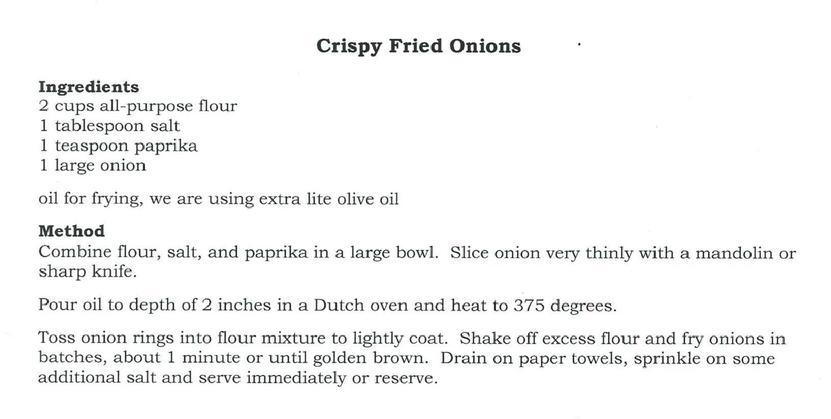 Recipe courtesy of A Chef's Kitchen in Williamsburg, VA
Published September 27, 2013
submitted by Webmaster Ron
Have you ever needed BBQ Sauce and went to the cupboard to find there was NO BBQ SAUCE? Well, that happened to me this week and I didn't want to drive to the store to replenish my supply. So, I found this recipe and it looked interesting. Then I thought, perhaps freshly made BBQ sauce would be better than store bought. I had all the ingredients that the recipe calls for so I gave it a try.
We used this sauce in a crock pot with boneless, skinless chicken breasts (4) and I must say, it turned out pretty good! Here's the recipe:
Published September 20, 2013
submitted by Webmaster Ron
This week's recipe is courtesy of A Chef's Kitchen, a theatre-style (a la "Emeril") restaurant and gourmet shop in downown Williamsburg. If you have not eaten there before, I'd highly recommend it. The experience is very educational, especially if you like to cook. Even if you don't like to cook, the voluminous information about items such as common table salt is well worth the visit. Reservations are required.
This cornbread recipe is really good. It does require though, a well seasoned cast iron skillet. Goes great with homemade Chili.
Published September 6, 2013
(From "Cooking Light" Magazine, April 2008)
submitted by Webmaster Ron
I'm very particular about Crab Cakes. I like a high quality crab meat and very little filler in my cakes. Lately, we have used Capt Neill's lump crab meat from North Carolina which we buy at Costco. Get this: I have NEVER found any shell in this crab meat (which I'm sure you crab lovers will agree is unheardof). This crab meat is expensive (last time I checked, it was about $24.00 a pound) but it is consistently the best crab meat I have come across recently.
Over the years, we have made (what we like to think of as) improvements to this recipe. They are listed below the print and labeled as "Recommendations". Please note however that the recipe is good "as is".
1. I use Coleman's Dry Mustard instead of Dijon Mustard. I find that a dry mustard helps soak up the other liquids in the recipe and helps to keep the crab cake patty from separating.
2. For the same reason, I use dried Parsley Flakes instead of fresh parsley with no noticeable degredation in taste (and I rarely have fresh parsley on hand).
3. If you do not have a red onion, Vadelia onion works fine. Just make sure to

finely

chop the onion.
4. I add one finely chopped stalk of celery to the ingredients.
5. Occasionally will add 1/4 cup of finely chopped red bell pepper (for taste and color).
6. Be sure to chill be crab cake mixture at least an hour (I chill for about 2 hours, although the recipe only calls for 30 minutes, which I find too short) before making the crab cakes. Then I chill the cakes for about an hour before cooking. This helps to "glue" together the ingredients and helps prevent them from falling apart in the pan.
7. Instead of cooking spray, I use Light Olive Oil. This form of olive oil will tolerate a higher heat for a longer period of time without smoking.
We have never tried the vegatable or sauce recipes that follow the crab recipe, but they look good.
Good luck...let me know how it works out!!!
Published August 23, 2013
submitted by Webmaster Ron
Ingredients:
- 4 to 6 Boneless Skinless Chicken Breast halves (we often use fresh chicken breast from Fresh Market) cut into 1/2" cubes.
- 1 Large Vadalia Onion (cut into 3/4" squares)
- 1 Green Bell Pepper (cut into 1/2" triangles)
- 1 Red or Yellow Bell Pepper (cut into 1/2" triangles)
(The various colors make for a colorful dish)
- 1 Shredded Carrot (we buy pre-shredded carrots as they are more uniform in length and thickness. Also easier!)
- Sylvia's Soulful Seasoned Salt (Available at Food Lion and Farm Fresh). This is great stuff. We use it a lot.
- 1 clove of garlic - peeled, crushed and chopped (or garlic powder)
- Pinch of Crushed Red Pepper (optional)
Directions:
Use a 12" Skillet. We use heavy stainless steel pans as they do not impart any unwanted flavor and cook evenly.
Dry chicken cubes in a cloth towel.
Heat about 2 tablespoons of EVOO in the skillet (lightly cover bottom of pan) over medium high heat until hot, but not smoking. Add chicken cubes and quickly jostle for a few seconds to prevent chicken from sticking to the pan. Dust with Sylvia's seasoning. Cook chicken, occassionally stirring, until chicken starts to release liquid, then reduce heat to medium, cover and cook for a few minutes until chicken is almost done. Remove cover and continue cooking at medium high until chicken is slightly browned and pan is almost dry (do not burn the chicken).
Remove chicken from pan and add the various colored bell peppers along with more EVOO. Sauté for about a minute over medium high heat while scraping the bottom of the pan with a spatula to loosen the residue that has accumulated (this adds flavor). Add in the onions (and garlic clove, if not using garlic powder). Sprinkle mixture with Sylvia's Soulful Seasoned Salt, lightly covering entire surface and add a small pinch of Red Pepper Flakes (if desired). Lightly sprinkle with garlic powder (if not using clove). Sauté until the onions become browned on the edges. Add back in the chicken with more EVOO. Stir and cook for an additional minute. Remove from heat and enjoy!!! If putting over pasta, top with grated cheese if desired.
Notes:
1. EVOO = Extra Virgin Olive Oil
2. Do not let skillet become dry. Add more EVOO.
3. We have tried almost all types of skillets and have settled on 18/0 grade, heavy gauge stainless steel. Have not tried the new ceramic pans. Are they as good as advertised? Would appreciate your comments.
4. If you have any variations or improvements to this recipe, please let us know. Always looking to make things better!!!
5. Quantites of chicken, onions and peppers are approximate. Objective is to have balance of all three ingredients.
Published August 16, 2013
Hawaiian Marinated Chicken Breast
submitted by Webmaster Ron
This is a simple recipe and produces great results. It does take a little planning ahead as it takes 3 days for the chicken to properly marinate. We use 4 boneless, skinless, trimmed chicken breast halves. Place breasts in a glass casserole dish, single layered if possible. Mix the following ingredients together in a medium sized bowl, pour it over the breasts, cover, and place in refrigerator for 3 days. Then, simply remove the chicken from the marinade and sauté over medium-high heat in a medium (10 or 12 inch) oven safe fry pan with a little Extra Virgin Olive Oil, browning both sides (about 3 minutes per side). Then place pan in a 350 degree pre-heated oven. Bake for 8 minutes then carefully turn chicken over (I use extra long tongs to do this so I will not have to remove the pan from the oven) and bake for an additional 5 minutes. Chicken should be well browned on both sides at this point and completely cooked. But with all the variables (breast size and thickness, oven temperature accuracy, etc.), I recommend cutting into one piece to ensure it is done.
Here is the marinade recipe: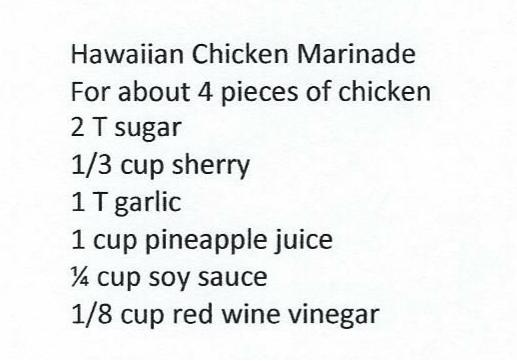 Mix all ingredients together and pour over chicken
NOTE: The marinade also works for steak. We buy loin strips from Costco, marinate them for four days and cook them on the outdoor grill. Outstanding when cut into 1/2 inch chunks and placed over salad.