DECEASED DECADERS

UPDATED:

29 NOV 2018



FNAME
MNAME
CNC LNAME
MARRIED SURNAME
LEE
ABRAHAMSON
ALEXIA
DELL
ADAMS
STINNETTE
WILLIAM (BILL)
ALTO III
EDWIN
LEWIS
ANDREWS
ROBERT
ARTMAN
RICHARD
DUNCAN
BAHR
JOHN
WARD
BANE
ELIZABETH
H
BAUMEISTER
SUSAN
ANNA
BAUZ
LARRY
DOUGLAS
BELL
SHARON
R
BENDOS
ANDA
BOSSIEUX
BRUCE
LEE
BOWER
BETTY
NEWELL
BRAGG
BRAGG
MARY
ALICE
BRASWELL
THOMAS
A
BRASWELL
LAWRENCE
BREAULT
ROBERT
C
BROOKS
SANDRA
BROOKS
JOSEPH
CARLYLE
BROWN JR
ESTHER
BUCKWALTER
KENNETH
ALLEN
CARTER
PETER
W
CARVER
DALE
DAVID
CHARLES
RONALD
L
CLAIR
ROBERT
EARL
CLARK
JUDITH
ANN
COLLINS
CHARLES
WAYNE
DAVIDSON
ROBERT
E
DEANS, II
JAY
CARLETON
DECH
KATHLEEN
ELIZABETH
DIGAN
LARRY
NOLAN
DOBIE
BEVERLY
A
DOLEY
JAMES
FRANKLIN
DRAPER
JOHN
PAUL
DYKSEN
ROY
ARTHUR
EGGLESTON
LORENA
ELDER
SMITH
JOHN
FLYNN
ALEC
L.
GAINES III
SHEILA
MARIA
GEBHARDT
BREAULT
JOHN
PATRICK "PAT"
GIGUERE
EDWARD
ALBERT
GLAUDE
WILLIAM
RUSSELL
GLOVER
JEAN
M
GOLDSTEIN
COMESS
MARY
E
GRABS
SHIRLEY
JANE
GRAVES
MILLER
KATHY
GREEN
SMITH
WILLIAM
FRANKLIN
GREER JR
JON
WILLIAM
GRIMES JR
BARBARA
ANN
HAMEL
FLYNN
CLARA
C
HANCOCK
DARYL
K
HANKS
MICHAEL
HARRIS
JOHN
TURBEVILLE
HARRISON JR
GEORGE
THOMAS
HASKINS
PATSY
ANN
HENRY
LARRY
HERMAN
JEFFREY
C
HICKS
PAUL
WAVERLY
HOGGE
EUGENE
THOMAS
HUGHES
SANDRA
L
HYAK
PRISCILLA
C
ISRAEL
JOHN
JOHNSON
CLOID
KENNETH
JORDAN
RACHEL
JORDON
HOGGE
JACK
KARIKA
WAYNE
KARMOSKY
JACK
E
KAUFFMAN
CATHERINE
V
KEARNS
JONES
BARRY
F
KIEMER
C
EDWARD
KNIGHT
ELLEN
M
KRAUSE
DONALD
WESLEY
LAKE
LAURINA
FRANCES
LEDWITCH
LYNN
ROBERT
LINDBERG
STEPHEN
PATRICK
LINKOUS
ROBERT
LINTHICUM
MICHAEL
LEE
LOFTUS
LINDA
LONG
DAVIS
KENNETH
MARSHALL
LUTHER
COLIN
MACINTOSH
JOYCE
MACK
KENDALL
CLEMENT
MAKOWSKI
SHIRLEY
AMELIA
MARKOFF
KLEIN
DORIS
MCCAULEY
SMITH
TOMMIE
MCKINLEY
FAYNE
G
MCKNIGHT
HEATH
JULIE
MEE
SAGER
PATRICIA
MEREDITH
OSCAR
EDWARD
MINOR III
LAWRENCE
M
MORGAN JR
RUBY
B
MORTON
VIRGINIA
LUDWIG
MOUNTCASTLE
VINCENT
Y
MUGUIRA
NANCY
E
MURACA
CHARLES
STEWART
O'ROURKE III
PAUL
D
PARRINO
ELIZABETH
ALEXANDRA
PAXSON
ALEXANDER
PHILLIPS
RICHARD
PIGGOTT
DORSEY
S
PLEASANTS JR
DAVID
MICHAEL
PLOTT
ALYCE
GAYE
POFF
SIMPLICIO
NANCY
POWELL
W
STEPHEN
PULLEN
PAULA
CLARK
RANKIN
RAMONA
RAWLS
HESTER
LUTHER
L
RICHARDSON
JOHN
L
RICHARDSON JR
JANIE
RILEY
LENARD
MARVIN
RITENOUR
BETTY
WARLITNER
ROBERTS
CALL
WILLIAM
M
ROBERTSON
THOMAS
R
ROWE
HERBERT
L
SAGE
GWENDOLYN
SEIDLER
STEVENS
THOMAS
V
SELLARS
PRISCILLA
DOUGLAS
SHORTER
DORR
JAMES
SIKORA
CAROL
DUDLEY
SIMS
FREDERICK
B
SMALLWOOD
DORIS
McCAULEY
SMITH
PATRICIA
ROGERS
SPEAKMAN
JAMES
C
SPIVEY
HASSIE
REED
STAIK
DAISY
MORGAN
STEPHENSON
CLINTON
SWIFT
DARYL
E
TONONI
CHARLES
HOUSTON
THACKER
GWENDOLYN
DIANE
URRUTIA
NEIL
VICKERS
ANDY
WACLAWSKI
HAROLD
HULAN
WALKER
RICHARD
P
WARTHAN
DONALD
WATKINS
ALAN
RUSSELL
WATSON
DAVID
J
WELLS
ROBERT
WENDELL
WILLIAMSON
ROGER
J
WOOD
HERBERT
CHANDLER
WORNOM III
WILLIAM
S
WORSTER
DWIGHT
T
WRIGHT JR
CHRIS
JOHN
YEAPANIS
GERALD
C
ZOUMPLIS



In Memoriam: Dr. James C. Windsor
(1932 - 2016)
by Barry Wood
Read at the Celebration of Life Service in Williamsburg on April 7, 2016.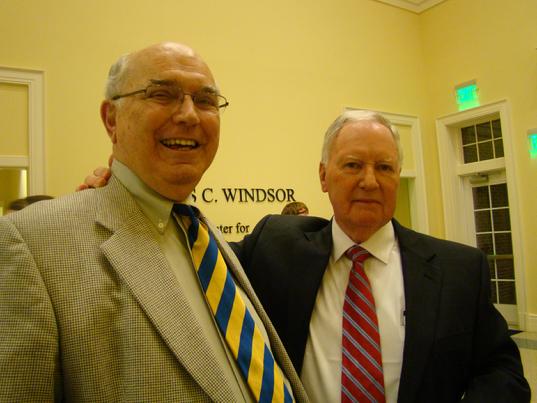 Friends since 1962, Barry Wood & Jim Windsor pose on Feb. 10, 2012, at the dedication of the Dr. James C. Windsor Center for Health and Counseling Services, in CNU's Freeman Center. Photo by Ellen Babb Melvin.
INTRODUCTION
Jim Windsor was and shall be my best friend--whether we were at work or at play, whether we were on the road or in active volunteer work, whether we were at tables in restaurants or in our homes with our combined families. Our bonding has allowed me to accept this moment of his death as I have begun to achieve a measure of peace and stillness. In the 16th century, Leonardo da Vinci wrote for those who survive the breaking power of death: "As a day well spent makes it sweet to sleep, so a life well used makes it sweet to die." And so I recognize the sweetness of Jim's death and hear again his own oft-repeated words, "I think of myself as a pilgrim on a never ending journey to a holy place." Thus, I now can see him in my mind's eye on that road and can still wish for him that he soon will come upon a marker left by Yogi Berra, "When you come to a fork in the road, take it."
A BRIEF SKETCH OF JIM
To present in detail a portrait of Jim would be unwise and would be to enter into the unnecessary: you have all come because you knew him and now feel the loss of him. Thus, I shall try to speak briefly about who he essentially was to me.
FIRST, HE WAS A MAN OF HIS WORD. When he gave his word, he then lived his word. His givings of his word became his history. And, before I met him in the Fall of 1962, that going forward through committed speech had included : God, The Marine Corps, The College of William and Mary, Joan (his wife), Jimmy (his son), Robin (his daughter), Colgate Rochester Divinity School, Virginia Commonwealth University, Christopher Newport College, and Service to Humanity. And after I met him, his world has generated a complex history that continued until speech left him.
SECOND, JIM WAS A MAN OF GOOD HUMOR--he laughed and enjoyed making people laugh and he understood the correlation between humor and health. His sense of humor attached him to little kids, especially to how they often mishear lessons taught to them by their parents. Here are a few of his favorite childhood's moral "understandings":
--- Jesus was born because Mary had an immaculate contraption.
--- The 7th Commandment is "Thou shall not admit adultery."
--- The first Commandment was when Eve told Adam, "Eat that apple!"
He enjoyed the writings of comedians, especially George Carlin and Woody Allen. Of the bespectacled Allen, he roared at lines joking about death:
---"I come from a long line of dead people."
---"I do not believe in an afterlife, although I am bringing along a change of underwear."
Jim enjoyed telling jokes, and at his dinners for politicians he rolled out hysterical tales, such as this one:
"The Bear and the Atheist"
An atheist was walking through the woods. As he was walking alongside a river, he heard a rustling in the bushes behind him. He turned to look and saw a seven foot tall grizzly bear charge toward him.
He ran as fast as he could up the path. He looked over his shoulder and saw that the bear was closing in on him. He tripped and fell on the ground and rolled over to pick himself up and saw that the bear was right on top of him, reaching for him with his left paw and raising his right paw to strike him.
At that instant the Atheist cried out, "Oh my God!" Time stopped; the bear froze; the forest was silent. As a bright light shone upon the man, a voice came out of the sky. "You deny my existence for all these years, teach others that I don't exist, and even credit creation to cosmic accident. Do you expect me to help you out of this predicament? Am I to count you as a believer?"
The atheist looked directly into the light and said, "It would be hypocritical of me to suddenly ask you to treat me as a Christian now, but perhaps you could make the bear a Christian?"
"Very well," said the Voice.
The light went out. The sounds of the forest resumed and the bear dropped his right paw, brought both paws together, bowed his head, and spoke: "Lord bless this food which I am about to receive from thy bounty through Christ our Lord. Amen." (From David Goode. Author Unknown).
-- To Be Continued May 13, 2016 --
___________________________________________
We welcome your FEEDBACK. Send to
cncmemories61_71@yahoo.com
Published April 29, 2016
Continuation of
In Memoriam: Dr. James C. Windsor
by Barry Wood
Dr. Windsor poses with his daughter, Robin Rice, and her husband and children on Feb. 10, 2012, at the dedication of the Dr. James C. Windsor Center for Health and Counseling Services, in CNU's Freeman Center. Rice family photo.
THIRD, JIM WAS A MAN OF HIGH SERIOUSNESS AND ACTIVE MORAL CHARACTER. He disciplined his mind for the battle with life's demands by reading -- Karen Armstrong, Deitrich Bonhoffer, Bart Ehrman, Eric Fromm, Viktor Frankl, William Hamilton, Sam Harris, Raymond Moody, Elaine Pagels, John Spong, Paul Tillich, Elie Wisel, Fyodar Dostoevsky, Franz Kafka, and Ingman Bergman.
He and I conducted a 5-part public examination of the theology of Ingman Bergman's films during Sunday afternoons in the auditorium of Gosnold Hall. Neither of us was what could be called a Bergman scholar, but each of us felt very deeply Bergman's challenge to our whole being. We both knew that the challenge was greater than our combined mental capacities, but neither of us felt that becoming foolish--in public--before The Seventh Seal or The Silence would be shameful. Our dialogue evoked our audience of 150 to enter into our efforts, always pushing toward enlargement.
Books and film were never enough. Life was always larger, always demanding service-in-the-world. And Jim was bound to that service and to humankind's everlasting quest to render experience fairer and more just. Most of you are here today because you were joined to him in this noble necessity to serve others.
FOURTH, JIM WAS GROUNDED. "Seek truth, live love, do good" appear over and over again in the book he was working on during his last years. I will close this meditation on Jim by using his own words left to all of us in his chapter entitled "Things We Can Count On":
Day by day we have to deal with ambiguity and disorder which makes us long for clarity and stability. We need to be reminded there are some things we can count on.
1. We can be sure that there is beauty in the world.
2. We can be sure that there is love in the world, but we cannot sit back and wait for friendship and love to come to us. They have to be earned. If we express love we are loved.
3. We can also be assured that there is bravery in the world. When men, women, boys and girls are tested by life, they usually come through. All around us, on a daily basis, we see expressions of courage in the face of adversity.
4. We can be sure that there is intelligence in the world. On a bad day we can look at the condition of the world and doubt our capacity to deal with our most urgent problems, but when you consider the relative youth of the human race, the marvel is that life on earth is as safe, as ordered, as advanced as it is. Someone has worked out a scale which helps our perspective: If you let the Washington Monument represent the age of the earth--550 feet--a penny placed on top would represent the age of man on the earth.
5. You can be sure that the individual counts. There is no substitute for the competent individual. E. H. Chapin has made the point eloquently: "Not armies, not nations have advanced the race; but here and there, in the course of ages, an individual has stood up and cast his shadow over the world." We can confidently believe that one man, or woman, or child can make a difference.
6. You can be sure that religion, which is man's search for God (meaning, truth), will always be a significant part of our lives. We are restless until we are able to identify and commune with that portion of God which is in each of us.
7. We can be sure that life will involve dealing with our own suffering, and the suffering of others. Since we will surely suffer, we should seek to find meaning in suffering. In the words of Viktor Frankl, "If suffering is all that is available to you then your purpose would be to suffer well. You can't change what happens to you, but you can change your thoughts about it. This is where you have mastery over your life."
Over a lifetime what will ultimately count the most will be what you become as a person. It will be your values and your character. What you are will be more important than what you do. You don't have to be in a special position to achieve personal growth. It can be achieved wherever you are. "Seek truth, live love, do good." (Source unknown)
As the last page in his work-in-progress, a little child puts perspective on Jim -- simply. Profoundly:
MY BEST COMPLIMENT
When I worked in a residential Child Development Center I met regularly with a group of autistic and schizophrenic children. At the end of the program a little schizophrenic boy said to me, "Dr. Windsor, I enjoyed your group. You made us feel you were just like one of us."
"The rest is silence." (Hamlet)
______________________________________________________
| | |
| --- | --- |
| | LAWRENCE BARRON WOOD, JR., Professor Emeritus, earned his English degrees at Hampdon-Sidney College (B.A.) and the University of Pennsylvania (M.A.). He taught at CNC/CNU from 1961 to 2004 while also serving in various administrative positions. At his retirement CNU awarded him the title Doctor of Humane Letters, honoris causa. Barry and his wife, Ann, now live in Easton, Maryland, where he teaches in The Institute of Adult Learning at Chesapeake College and volunteers services for The Talbot County Hospice. |
As gratifying as it has been to locate First Decaders after as much as fifty years, it has also been sad to learn of those who have passed away.


We thought that you would want to know who they are, so we have compiled this list, which includes Faculty & Staff from the First Decade.

Once we learn that a Decader is deceased, we delete all contact information, so please do not ask us how to contact family members.
If you know of a deceased Decader who is not on this list, please contact us.
We welcome your FEEDBACK. Send to
cncmemories61_71@yahoo.com
Published May 13, 2016
CNC FACULTY & STAFF
DECEASED



| | | | |
| --- | --- | --- | --- |
| TITLE | FNAME | MNAME | SURNAME |
| MR | JOSEPH | R | AMBROSE |
| MRS | EDNA | A | APPLETON |
| MRS | ESTHER | | BEASLEY |
| DR | ROSS | C | BRACKNEY |
| MR | CHARLES | FRED | BREWER |
| MRS | DAISY | D | BRIGHT |
| MRS | JANE | | BYRN |
| MRS | EDNA | | CARNEY |
| MR | H. | WESTCOTT | CUNNINGHAM |
| DR | LEE | E | DOERRIES |
| DR | DAVID | E | DOOLEY |
| MR | THOMAS | | DUNAWAY |
| DR | ROBERT | J | EDWARDS |
| MS | FLORA | | GILL |
| DR | J | RICHARD | GUTHRIE JR |
| DR | GARY | G | HAMMER |
| MRS | JANE | | HARRISON |
| MRS | GEORGIA | M | HUNTER |
| DR | ELIZABETH | F | JONES |
| MS | MARTHA | K | KERLIN |
| MS | RUTH | L | KERNODLE |
| MR | WILLIAM | W | KITCHIN |
| MRS | FRANCES | | KITCHIN |
| COL | RICHARD | H | LAWSON |
| DR | A | BURNAM | MACLEOD |
| DR | ALETHA | S | MARKUSEN |
| MR | RICHARD | E | MCMURRAN |
| DR | ALBERT | E | MILLAR |
| MRS | ELLA | WALKER | MITCHELL |
| DR | JAMES | IRWIN | MOORE |
| MISS | BETTE | | MOSTELLER |
| DR | RUTH | | MULLIKEN |
| MRS | JANE | | PILLOW |
| MR | WILLIAM | J | POLIS |
| MR | VAN | | POLYSON |
| DR | JEAN | ELIZABETH | PUGH |
| MISS | NANCY | | RAMSEUR |
| MRS | ALICE | F | RANDALL |
| MS | URSULA | V | RIDDICK |
| MR | ERNEST | O | RUDIN |
| DR | JOYCE | K | SANCETTA |
| DR | W | STEVE | SANDERLIN |
| MS | LILLIAN | J | SEATS |
| MRS | RUTH | O | SIMMONS |
| DR | JOANNE | | SQUIRES |
| MR | ALLEN | | TANNER |
| MR | ROBERT (PAT) | M | USRY |
| MRS | JOYCE | | WATSON |
| MR | CECIL | HARVEY | WILLIAMS |
| DR | JAMES | C | WINDSOR |
| MRS | JOAN | RUTH | WINDSOR |
| DR | E | SPENCER | WISE |



They shall grow not old, as we that are left grow old:
Age shall not weary them, nor the years condemn.
At the going down of the sun and in the morning,
We will remember them.
Laurence Binyon, 1914