Because of Hurricane Florence, the LUNCHEON at CNU has been rescheduled for SEPT. 30th at 1:00 P.M. MORE DETAILS will be emailed soon.
ARTICLES ON THIS PAGE:
(Today through September 27th

)



1. NEW article: Two Very Interesting 1970 Riverside School Commencement Articles.
2. Memories of CNC's Super Superintendent:

Mike Cazares

Part 2 (Life Before CNC & Mike's Greenhouse).
3. REVISED: CNC's Super Superintendent

Mike Cazares: Conclusion (Greenhouse, CNC Recognition, Last Years).
4. First Decaders Chairman David Spriggs Wins the Chambers Award for Voluntary Service.
5. Deities, Rulers, and Wrong Numbers: Our Latin Calendar, Part 4 (September - December).
6. NEW Feedback.
7

. NEW Cartoons: Hurricane Humor.
Ultimately all you will have left at the end of the day are your name and your reputation. Invest in them wisely and you and others will simultaneously reap the rewards.
Leonard A. Schlesinger
Member, Harvard Business School faculty

What is it that even the most careful person overlooks?

---
Answer shown at the bottom of this page
Memorabilia Gallery No.17:
Two Very Interesting 1970 Riverside School Commencement Articles
Sent by LaVerne Merlin McDonald
Edited by A. Jane Chambers

LaVerne Merlin McDonald recently sent me an email with two very interesting items: side-by-side Daily Press articles about the graduation of her class of 1970 at the Riverside School of Professional Nursing (RSPN). She found these in her "hope chest" and is "sure" they were printed "around August of 1970." In CNC's early years, Riverside Hospital's student nurses were also CNC students their first year in the RSPN program. They had an important role in the college's history, being First Decaders (FDs) as well as Riverside RNs, and some of them also earned CNC degrees.
The title of this first article--"Hospital Official Foresees National Medical Insurance"--almost leaps off the page. What a surprising commencement speech that must have been 48 years ago! John N. Simpson, associate administrator of Richmond Memorial Hospital, began by asking, "Are we slowly but surely on the path to socialized medicine?" This article is quite interesting, showing us the medical community's thinking half a century ago.
Most interesting also is the photograph with this clipping, showing the first male nurse in Riverside's program receiving his Registered Nurse (RN) pin. In her email LaVerne described the woman in the picture, Mrs. Jean Armistead, as "a Riverside graduate employed as the student health nurse" and the man, James D. Lowell, as now "a retired doctor."
Jim Lowell and I have corresponded for several years and he has written several articles for our website. He's had an exciting and productive life. He attended CNC first in 1965-66, while also serving in the US Coast Guard. After earning his RN, he worked as a night nurse in the psychiatric unit at Riverside while also completing his BS in psychology at CNC in 1972. After teaching psychiatric nursing at TNCC for a year, Jim then entered medical school. He completed his MD at MCV in 1977, then did his residency in family medicine at the Univ. of Manitoba, Winnipeg, Canada.
| | |
| --- | --- |
| His career included being a fly-in doctor at an Indian Reservation in Manitoba, practicing rural family medicine, being associate director of a family practice, having a solo private practice (80% obstetrics), working in occupational medicine, and finally being Medical Director of the Good Shepherd Medical Center in Longview, TX. The fairly recent photo right was made at CNU on casual dress night of the two-day and two-night first reunion of the CNC First Decaders (Sept. 16 & 17, 2011). Jim is between two other RSPN graduates--Beth Shepherd Mollick (RN 72) on the left and Dalton Kelley Blankenship (RN 77)--both also FDs. (Photo credit: Beth.) | |
This second article is about the 1970 class's three most outstanding graduates: Gail Yates (later Tobey)--the "Yorktown Girl" in the title, Jim Lowell, and LaVerne Merlin (later McDonald). Other than what is in this article, all I know about Gail is what Jim Lowell told me: that she retired to San Miguel de Allende in central Mexico some years ago. We learn more about her, and about Jim and LaVerne, in this very interesting article.
After earning her RN, LaVerne Merlin McDonald began her nursing career of over 40 years. She worked first at Greater Southeast Community Hospital in Washington, DC. However, after earning her Critical Care Nursing Certification (CCRN) from the American Association of Critical Care Nurses (AACN), she spent the rest of her career in adult Critical Care--first at Circle Terrace Hospital in Alexandria, VA (15 years) and then at Reston Hospital Center in Reston, VA (over two decades). Widowed since 1994 and now retired, she lives in Springfield, VA and enjoys time with her son and his family. We thank her for these two articles and hope she will join us sometime for one of our yearly First Decaders reunions.
Readers, do you too have some interesting CNC or RSPN memorabilia tucked away somewhere in a hope chest, or yearbook, or cardboard box? Check your attic, basement, closets--and look under your bed. If you find something you almost, or completely, forgot you had saved, tell us about it. We might want it!
The photo below, from page 77 of CNC's 1968
Trident
, shows RSPN's Class of 1970 during the student nurses' first year. The back row shows Jim Lowell (standing, left). The middle row shows LaVerne (seated, last half of the row), and the front row shows Gail Yates (right end). Are you, or is someone you know, also in this picture?
---
We welcome your FEEDBACK. Send to
cncmemories61_71@yahoo.com
or cnc6171@cox.net.
Published September 14, 2018
Memories of CNC's Super Superintendent:
Mike Cazares
(1913 – 1994)
Part 2
The Greenhouse project is another example of the dedication
 of the early CNC people
 and the strong sense of family that existed then.
Without folks like Mike Cazares and Jean Pugh,
I am not sure there would have been a CNU today.
--Dr. Harold Cones, Distinguished Professor Emeritus of Biology
MIKE'S LIFE BEFORE CNC

Mike was born Miguel Cazares on April 25, 1913, in a small border town called Eagle Pass, Texas, the first of three children and the only son of Spanish-speaking parents of Indian-Mexican heritage. To support his family, Mike's father often worked away from home, primarily in bridge construction. When Mike was 14 or 15 years old, his father died from blood poisoning caused from stepping on a nail. Overnight, Mike became the breadwinner. He had to leave school and start working full-time to support his mother and two young sisters.




Union Pacific's Eagle Pass-Piedras Negras International Railway Bridge, completed in 1928, crosses the Rio Grande between Eagle Pass, TX and Piedras Negras, Coahuila. It is the second busiest rail bridge crossing in Texas. Did Mike's father help build it? Photo & information from Wikipedia.
| | |
| --- | --- |
| CCC workers on a soil conservation project in 1934. (Photo from Wikimedia.) | Young Mike took any kind of job he could find during those years of the Great Depression (1929-39). He worked for awhile in the CCC (Civilian Conservation Corps), Roosevelt's public work relief program for unemployed single men aged 18-25. He labored in construction, railroad work, and copper mining. Like his father, he went where the work was and sent money back to the family. Hard work in various fields was to his benefit, however, because he acquired many skills that would serve him well throughout his life. |
| | |
| --- | --- |
| Like many young men seeking job security in the 1930s, Mike tried to join the Army, but was turned down because the Army needed no more soldiers then. That situation quickly changed with World War II, however. Mike was drafted in 1942, at age 29, and two years later was at the Anzio invasion in Italy. He served elsewhere in both Italy and Africa until that war ended. Then he was with the Occupation Forces in Austria, where he met Austrian Anna Kaufman, who became his wife. Making the Army his career, Mike served also in the Korean War with a Supply Company stationed in Suwon, a village near Seoul. There he spent much of his free time helping with an orphanage, for which he was honored by the village mayor. | Poster for the 1968 Italian movie based on the Allied invasion of Anzio, Italy, one of WW2's bloodiest battles, which lasted 4 months. Some 30,000 Allies lost their lives. |
After 22 years of service with distinction, Mike retired from the Army as a Master Sergeant in June 1964, at Fort Eustis. Then 51, he and Anna were living in the cinderblock house he had built on Menchville Road in Newport News, with their young children: Michael, Ricardo, and Sandra. Mike went for an interview at CNC with then Director (later President) H. Westcott Cunningham, who hired him immediately. As Mrs. Cunningham recently recalled, "Scott was so pleased to have someone as reliable and competent as Mike," who also "was a really nice person." The fact that both men were WW2 veterans possibly helped create a bond between them. Cunningham had commanded a PT Boat in the Pacific.
MIKE'S GREENHOUSE

In 1970, when the Biology Department hired Dr. Dave Bankes, CNC's first botanist and horticulturalist, the College had no greenhouse. Dave, of course, wanted a greenhouse for plant propagation and so forth, but his chance of getting a real greenhouse from the state was less than zero. Dr. Harold Cones remembers how "Mike's Greenhouse" began: Biology chairman Dr. Jean Pugh talked to Mike Cazares and they agreed that Mike would do the work as he had time (including Saturdays) and would get the bricks (with his own truck) for the head house from the state penitentiary, which had provided the bricks for the other three buildings on campus, and Jean would buy the other building materials. CNC either paid for the bricks or got the state to donate them and also paid for the six or eight metal trusses for the head house roof. Jean bought the rest of the materials, including concrete for the floor.




Mike Cazares in the 1970 Trident, p. 18.
Consulting with Dave Bankes, Mike drew up the design. He did not need blueprints. After all, as his daughter Sandy Allard recalls, he had built his own cinderblock house on Menchfield Road, from the foundation to the roof, with the help of no one except his wife. He had done everything himself, including carpentry, plumbing and electrical wiring, and had also built his own detached garage, which served as his workshop.
Brickwork underway on the head house part of the greenhouse project. 1972 Trident, p. 19.

Most members of the Biology Department pitched in to help Mike with this CNC project, as did some students, working mainly on Friday afternoons and Saturdays. Biology professors Dave Bankes and Ron Mollick helped, and of course Jean Pugh and Harold Cones were there regularly. Not everything the novices did was always done perfectly of course. Harold remembers that when the concrete (paid for by Jean Pugh) was delivered for the floor, he was one of those who helped to smooth it after it was dumped, but, as he recalls, "It was never really smooth, I'm afraid."

Laying bricks for the head house was a major challenge, even under Mike's well intentioned instruction. Harold laid most of the bricks, but says that task "is not as easy as it looks" and he's not laid another brick since. He remembers the bricks were "beautiful, handmade, with lots of interesting color and quality variations, and no two alike." Student Tom Sobieski (BS, 1973) remembers that "one of the CNC students convinced someone that he could lay bricks," but his brickwork "resembled more a wave than a straight line," so he was asked to resign from that task.

To save money, the department decided to put a flat roof on the head house. Consequently, although the finished brick head house was very attractive, Harold recalls that it "leaked badly—but it stayed functional until torn down a few years ago for the new Forbes Hall."




Two faculty forces behind the building of Mike's Greenhouse: (L-R) Harold Cones and Jean Pugh, playing Peekaboo behind a plant. 1970 Trident, p. 12.
"The construction of the Greenhouse was a stop and start project," Dr. Sam Bauer recently wrote. The same is true of this Tribute to Mike Cazares. Part 3 will start with phase 2 of the greenhouse project, building the actual greenhouse. Then it will cover how CNC honored Mike in 1975, what happened after his retirement, and acknowledgement of sources. Stay tuned! And send us your memories of Mike Cazares, if you've not already done so.
We welcome your FEEDBACK. Send to
cncmemories61_71@yahoo.com
or cnc6171@cox.net.
Published February 21, 2014
Republished August 31, 2018
CNC's Super Efficient Superintendent,
Mike Cazares:
Conclusion
By A. Jane Chambers
I think Mike spent most of his Saturdays at CNC working on projects, for free,
because of his desire to see us have the best we could have
with very little money.
--Dr. Harold Cones, Distinguished Professor Emeritus of Biology
MIKE'S GREENHOUSE: Phase 2
Once Mike Cazares and his volunteer crew had completed what turned out to be a rather attractive brick head house, they tackled phase two: building the actual greenhouse. Using glass for it was out of the question, recalls Dr. Harold Cones, because glass was extremely expensive. Mike soon found a fiberglass product that could be used on greenhouse sidewalls. He concluded the same greenish-yellow fiberglass sheets would work for the roof too. Dr. Jean Pugh, as usual, generously provided the money to buy this material.
| | |
| --- | --- |
| The Cazares Crew all met to build the frame for the greenhouse. The frame included wooden roof rafters (see photo, right) that Harold recalls as not only very expensive, but also very long and very heavy. Once the framing was completed, the workers covered it with the fiberglass sheets "and voila," Harold recalls, "we had a green (actually a yellowish-green) house." Mike then built plant tables, installed lighting and plumbing, and turned it over to the College. It was named "Cazares Greenhouse." | Greenhouse during framing. 1972 Trident, p. 19. |
| | |
| --- | --- |
| This photo of Mike accompanied the article "Supervisor leaves his mark on CNC," provided by Sandra Cazares Allard. | Mike was interviewed later by a reporter from either the Daily Press or the Times-Herald. The subsequent article, "Supervisor leaves his mark on CNC," saved by Mike's family, but unidentified and undated, appeared in a "Peninsula People" section. It included the photo shown here to the left. The reporter wrote that although the Cazares Greenhouse was only "about the size of a small house, …to the biology department, and the CNC employee who built it, the structure is an important part of the Shoe Lane campus." Mike's sense of humor is evident in his reply to the question "What's grown in the greenhouse?" He said, "I call them weeds, but the professors call them all sorts of exotic things." |
The reporter stated that Mike had "an architect's drawing of the campus in his office, identifying the building as Cazares Greenhouse" and that Mike pointed to the location of "his" building "in close proximity to Christopher Newport Hall and Capt. John Smith Library" and said, "I'm in good company." The greenhouse was actually to the right of Gosnold Hall, CNC's first science building. I remember viewing it from classrooms on the second floor of Newport Hall. Between the back of Newport and the greenhouse was a large expanse of lawn later occupied by the new Science Building, and behind the greenhouse was a thick patch of woods.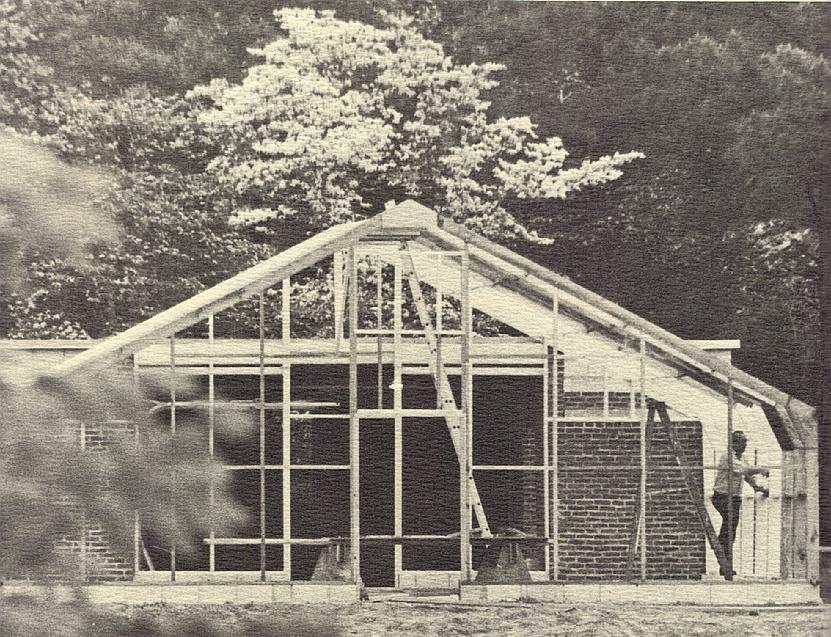 The framed greenhouse seemed ready for the fiberglass panels in this photo. The unidentifiable man on the ladder might be Mike Cazares. 1972 Trident, p. 14.
As time passed, the greenhouse developed some problems. The flat roof of the head house often leaked and the roof rafters, as Harold Cones remembers, "were so heavy that they sagged, giving the greenish-yellow house a bowed back." However, improvements were made to the head house from time to time. Then the greenish-yellow greenhouse was replaced by a glass greenhouse, under physics professor Dr. George Webb, who headed that project—getting the money for it, approving the plans, and so forth. Professional builders added on to the greenhouse structure already there but the head house was kept. The Cazares Greenhouse thus served the College, particularly the botany students, very well until it was razed, like the other original Shoe Lane buildings.
RECOGNITION and RETIREMENT
After 11 years at CNC, in charge of maintaining not only 73 acres of buildings and grounds (lawn and woods) but also campus security, Mike decided it was time to retire—at age 62. Nobody was glad to see him go. In 1973 CNC had established a Distinguished Service Award to be given to people who had made an outstanding contribution to the development of the College. The award was a bronze medallion with a replica of the College seal (the second seal, adopted in 1970) suspended from a blue and white ribbon. The first recipients of this award, at 1973's Spring Commencement, were CNC'S first president, H. Westcott Cunningham and Virginia delegate Lewis A. McMurran, Jr., called by some the "Father" of CNC because of his significant political support of the College in the General Assembly from its beginning.
| | |
| --- | --- |
| Photo from "CNC Graduation Set Sunday," provided by Sandra Cazares Allard. | Shortly before CNC'S December 21, 1975 Commencement, an article ("CNC Graduation Set Sunday") appeared in either the Daily Press or the Times-Herald. It opened with a statement that Mike Cazares would "receive the Distinguished Service Award at CNC'S Graduation Ceremony" and included this photo of Mike. It also quoted these words from CNC's then-president, Dr. James Windsor: "Christopher Newport has been fortunate in having Mike Cazares as a member of its staff. He served with distinction during the 11 years he has been with the college. He has been a dedicated civil servant and is admired and respected by students, staff and faculty. We regret that he is leaving the college due to retirement." |
Virginia Delegate Lewis A. McMurran, Jr., wearing this same CNC Distinguished Service medallion, was on the commencement program that Sunday afternoon, as the dignitary who introduced the speaker, U. S. Congressman Thomas N. Downing. Below are (left) page 2 of the 4-page program (there were 97 graduates) and (right) a photo of Congressman Tom Downing looking on while President Jim Windsor placed the medallion around the neck of a smiling Mike Cazares. Like so many of the photos in this 3-part article, these were provided by Sandra Cazares Allard.
In 1981 Mike and Anna moved to Kissimmee, Florida, where he continued doing what he loved: building, maintaining and repairing things as long as he was able. He died at age 81, on December 28, 1994, from complications related to Diabetes. Mike's wife, Anna, moved back to the Peninsula and lived close to their youngest child, Sandra ( Sandy ) Allard, in Yorktown, VA. until her death in December of 2016 at age 93. Sons Michael (Mike) and Ricardo (Ric) live in Costa Rica. Mike's daughter from a previous marriage, Gloria Tunning, lives in San Antonio, TX. Mike had eight grandchildren.
Acknowledgements
A very special Thank You to Sandra Cazares Allard, my major source for much information about her father. Sandy provided personal memories as well as photos, newspaper articles, and other documents which were vital to the writing of this Tribute. A big Thank You also to Dr. Harold Cones, who provided most of the information about Mike's Greenhouse. Thanks also to Dr. Jane Webb for locating the 1994 obituary for Mike, Dr. David Game for leading me to Mike's son Michael on Facebook, Michael, who then connected me with his sister Sandy, and the former students, especially Dave Bessom, who shared with me their memories of Mike. I appreciate the help of all of you.
---
We welcome your FEEDBACK. Send to
Published March 7, 2014

Revised and reprinted September 14, 2018
First Decaders Chairman David Spriggs
Wins the Chambers Award
for Volunteer Service
by A. Jane Chambers
Retired U.S. Navy Captain David Spriggs (photo above) received the A. Jane Chambers Award for Volunteer Service at CNU's Alumni Awards Reception held on Friday evening, August 17th, at the Gregory P. Klich Alumni House on CNU's campus. Established in 2014 by the Alumni Society, this award is given annually to a non-graduate of CNU who has provided outstanding volunteer service to the Christopher Newport community. David entered CNC as a freshman in the fall of 1964, but moved to Annapolis after successfully completing his first semester, having been accepted at the U.S. Naval Academy there.
| | |
| --- | --- |
| Chris Inzirillo, President of the Alumni Society, read the nominations for the various awards, announced the winners in each of the five categories, and posed with each recipient for official CNU photographs. Since David Spriggs was, unfortunately, unable to attend the event, his award's namesake was asked to accept the award on his behalf--hence the photo (right) of Chris and me holding the award, which is currently being held in the Office of Alumni Relations Director Baxter Vendrick. Baxter will present it to "Cap'n Dave" at the September 16th First Decaders Luncheon at CNU. | |
David was nominated for this award because he has ably served voluntarily as Chairman ("Captain") of the CNC First Decaders since the group's beginnings, in 2010. Using the CNC
Trident
yearbooks and available commencement programs from the first decade, he created and regularly updates a roster of First Decaders with contact information. He organized the First Reunion of the group, a 2- day and 2-night event held in 2011 at CNU and attended by well over 200. Shortly after that, he initiated annual September Picnic reunions, held from 2012 - 2017 at Newport News Park. Beginning this year, 2018, these reunions will be indoor events, the first one scheduled for September 16th at CNU. Such events help keep the First Decaders engaged in both our CNC past and our CNU present and future.
Two people were nominated for the Chambers Award. Upon learning via email that he was the winner, Dave sent the following email to the other members of the First Decaders Crew: I want all of you to know that whatever accomplishments were reported in the nomination and resulted in my receiving the award were only made possible by the hard work of all of you. If it were up to me, this award would be equally divided among us. Cap'n Dave
Hosted by the Alumni Society Board of Directors, the 2017-18 Awards Reception was attended by over a dozen nominees for the five awards and also by alumni leaders, faculty, staff, and President and Mrs. Trible. President Trible addressed the gathering before presentation of the awards. Delicious
hors-d'oeuvre
and various beverages were served before and after the ceremony. The above CNU photo shows the winners who were present and President Trible.
---
We welcome your FEEDBACK. Send to
cncmemories61_71@yahoo.com
or cnc6171@cox.net.
Published August 31, 2018
Deities, Rulers, and Wrong Numbers:
Our Latin Calendar
Part 4 of 4
by A. Jane Chambers
Parts 1 and 2 of this series were about the six deities for whom the months of January through June were named and Part 3 was about the two rulers for whom July and August were named. This last part is about the "Wrong Numbers" in the names of the last four months: September through December.

As discussed earlier, Julius Caesar replaced the ancient lunar Roman calendar of 10 months with the solar calendar of 12 months, based on Earth's revolutions around the sun. His Julian calendar was the major western world calendar for 15 centuries, until refined and replaced in 1582 by the 12-month Gregorian calendar, under the direction of Pope Gregory XIII. Neither Caesar nor, 1500 years later, Pope Gregory changed the names of the last four months of the old 10-month Roman calendar.

The name of this month is from the Latin mensis september, meaning "seventh month." September is from Septem ("seven") and -ber (a suffix equivalent to English "-th"). Note that -ber is the ending of all four of the names discussed here and that mensis is Latin for "month. " Although September was the seventh month in the ancient Roman calendar, since the year 46 BC (date of the Julian calendar) it has been the ninth month. The illustration on the right is described by Wikipedia

as "a panel from a 3rd-century mosaic of the months, located at El Diem, Tunisia (Roman Africa)." It depicts two men making wine by crushing grapes with their feet, a characteristic activity of the month of September in Roman art. The remaining three mosiac photos in this article are from the same mosaic of months.



How many arms does an octopus have? How many keys are in an octave? What does the word October mean? Octo is Latin for "eight." Mensis October was the eighth of ten months on that oldest Roman calendar. In ancient Rome, October "marked the close of the season for military campaigning and farming" (Wikipedia

). The mosiac panel on the right has a 8-pointed star (appropriately) above the heads of the two figures, seemingly men, who are facing each other. Their arms and empty hands suggest they are making peace, or perhaps congratulating each other after winning a battle or completing the hard task of harvesting.



November

is from the Latin novem, meaning "nine." Mensis November was originally the ninth of ten months. Once again, that's a wrong number for our 12-month calendar. The mosiac panel here seems very strange: a human figure with an wolf's head? But November was the month of the Plebeian Games (Latin Ludi Plebeii) in ancient Rome--a major religious festival held November 4 -17. The purpose of this festival was to entertain the common people (plebs) of Rome. The games included both theatrical performances and athletic competitions (Wikipedia). That mosaic apparently depicts some theatrical event, perhaps the myth of the twin brothers Romulus and Remus, reared by a she-wolf. Supposedly Romulus founded Rome after killing Remus.



The tenth month of the old Roman calendar was mensis December, from the Latin decem ("ten")--again a wrong number for our twelfth month. The famous festival the ancient Romans celebrated in December, the Saturnalia, honored the ancient Titan god Saturn (Latin: Saturnus)--the father of Jupiter, Neptune, Pluto, Juno, Ceres and Vesta. Saturn was a god of many things, including both generation and dissolution, plenty, wealth, agriculture, periodic renewal, liberation, and time. He reigned in the mythological Golden Age of peace and plenty (Wikipedia).

Saturn was usually depicted in art as an elderly man holding a scythe or sickle, as in the
2nd-century AD Roman bas-relief shown left below. The familiar figures of Father Time and the Grim Reaper both evolved from images of Saturn.
The
Saturnalia
was a time of feasting, role reversals, free speech, gift-giving and revelry, held originally on December 17 but later expanded from the 17th through the 23rd of December. There was continual partying and a carnival atmosphere overturning social norms--
e.g
., gambling was allowed and the master-slave roles were reversed, with masters providing table service for their slaves (
Wikipedia
). The December mosaic above right is perhaps based on revelry typical of the Saturnalia, music and dancing.
Will we ever change the names of these last four months of the year, to rid those months of their wrong numbers? After almost 2000 years, I seriously doubt we will.
__________________________________________________________
We welcome your FEEDBACK. Send to
cncmemories61_71@yahoo.com
or cnc6171@cox.net.
Published August 31, 2018
Mike Cazares receiving CNC's Distinguished Service Medallion from President James C. Windsor at the 1975 Commencement. Looking on was Congressman Tom Downing.
RE: Mike Cazares Tribute series
FROM: Dalton Blankenship The thing Norman and I remember most about Mike happened just before classes were to begin in 1965, and it testifies beautifully to both his construction wisdom, and his understanding of human nature. Mike was being pressured to get sidewalks put in between Christopher Newport Hall and the new building, Gosnold Hall. The Powers that be wanted the sidewalks in prior to the start of classes.
Mike just smiled and said, "Give it a week or so. The students will show us where the sidewalks need to be!" We did. And sidewalks were summarily put in on the paths we had quickly worn.
FROM: LaVerne Merlin McDonald Thank you for all the wonderful articles. I especially enjoyed the one about Mike Cazares. He and his wife, Annie, were very close friends of my parents. I remember visiting them in that house he built for his family.
---
RE: Dave Spriggs Award article
FROM: Tom Oxner Congratulations, Dave. Well deserved award!
Editor: Over twenty people similarly congratulated Cap'n Dave.
---
RE: Latin Calendar series
FROM: Barbara Jacobs Three very fine articles, two of which must have taken a bit of time and research!! I always like your little histories, especially this one about the Latin calendar.
---
RE: Website in general
FROM: Joe Hutchko Great job with the website! I look forward each week to reading the content that takes us back to the 1960s during the first years of CNC. It is a real treasure to have been a part of CNC during those growth years and your website has allowed me to not only remember the events from that period but also keep in touch with several good friends from that era. Great job guys!
__________________________________________________________
We welcome your FEEDBACK. Send to
cncmemories61_71@yahoo.com
or cnc6171@cox.net.
Published September 14, 2018
Published September 14, 2018
Dr. Jane Chambers, Editor and Head Writer

Ron Lowder Sr., Webmaster
Donations
to our Treasury are gratefully accepted.
Make out checks to
CNC First Decaders
. Mail them to
Sonny Short, FD Treasurer,
12738 Daybreak Circle,
Newport News
, VA 23602.
Your DECADER committee ALWAYS enjoys feedback on items that appear on this website. The feedback can be positive or negative...doesn't matter. It is just super for us to know that you are actually visiting YOUR website and have something to share.
Please don't hesitate to send us an email with a comment...we LOVE to hear from you!
(There is an underscore between 61 & 71 in the web address above)
This site is NOT affiliated with Christopher Newport University