ARTICLES ON THIS PAGE:
(Today through April 27th

)



1. NEW article: Cunningham Family Enjoys Private Tour of Klich Alumni House.
2.

NEW article: Recipients of Cunningham and Wolf Scholarships Meet Donors.
3. From our Archives: Early Men's Tennis at CNC, 1966-1968: An Interview with John W. Morris. Part 1.
4. President Scotty Cunningham's Naval Service in WW2 and Korea: Family Photos.
5. Local Dance Band Soul Intent Serves the 50+ Age Group with Beach, Motown, 60's and 70's Music.
6. NEW Humor: The Hotel Bill.
7. NEW Cartoons: Easter Eggs and Bunnies.
There's only one way to have a happy marriage and as soon as I learn what it is, I'll get married again.
What can you hear but not touch or see?
---
Answer shown at the bottom of this page
Cunningham Family Enjoys
Private Tour of Klich Alumni House
by A. Jane Chambers
Photos by Alumni Relations Office
On Wednesday, March 29, Cecil Cary ("Cecy") Cunningham and her daughter, Ann Cunningham Stachura, were given a private tour of CNU's recently opened Klich Alumni House. The widow of H. Westcott Cunningham, Cecy is Christopher Newport's First Lady, and Ann is CN's First Daughter. Their hosts for this tour were members of CNU's Office of Alumni Relations, headed by Director Baxter Vendrick, and Dr. Sean Heuvel, Chair of CNU's 1961 Historic Preservation Club. As the following photos show, the Cunninghams very much enjoyed this first visit to the alumni house, and their tour guides thoroughly enjoyed showing them around it.
Mrs. Cunningham signs the Guest Book at the Reception Desk in the large Reception Hall. Notice the photo of her and her husband in the oval frame, with the words "Welcome Christopher Newport's First Family."
Cecy and Ann looked at a number of displays in the Reception Hall and the other rooms on this floor. Behind them in this picture are Dr. Sean Heuvel (L) and Senior Alumni Relations Officer Katie Monteith.
In the Sitting Room, Sean (L) and Baxter (R) talk with Cecy and Ann about the display next to Cecy of CNC's first graduation, a one-student event in Scotty's office in 1962 attended only by AA degree recipient Lois Wright, then-Director Cunningham, and Lois's parents. Lois is now Distinguished Professor Emerita at the University of South Carolina--Columbia and a Williamsburg resident. She has donated her CNC diploma to CNU for permanent display.
The Cunninghams admired the ceremonial mace on display here, crafted by Sean Heuvel's grandfather, J. J. (Jan) Heuvel, Sr. (1914 - 2003). A master cabinetmaker trained in the old European school, he came to America after World War 2 and became a master craftsman at Colonial Williamsburg. The mace was created in 1977 to celebrate Christopher Newport's independence from The College of William and Mary. It is a common and compelling sight at CNU's academic ceremonies, where it is carried by the senior member of the faculty. An article on this mace and its maker is in our website Archives, in the sub tab Second Decade History.
The above photos, taken in the second floor Conference Room, show Cecy posing with (L) daughter Ann and then (R) Alumni Relations Director Baxter Vendrick. Behind them is a recently-discovered portrait of Scotty Cunningham painted by Agnes McMurran Johnson, a well-known painter and art teacher in this area who was also instrumental in the founding of the Peninsula Art Association, later renamed the Peninsula Fine Arts Center, which has had a long history with CNC/CNU. This painting was donated to CNU by the Cunningham family in April of 2016.
A centerpiece in the house's Library is this beautiful piano. At the keyboard is CNU student Kenneth Kidd, entertaining Cecy near the end of the tour. Kenneth is an Alumni Relations Office intern and was recently elected to be CNU's Student Government President next year. Behind them is part of the wall-length bookcase with built-in seating, which provides space for visitors to sit while browsing some of the books that will be housed there.
Cecy poses with Ann and Kenneth (L) and with Alumni Relations officers (R) Katie Monteith (L) and Monica Hill (R), both of whom are also CNU alumnae.
Seated before the fireplace in the Library, First Lady Cecy shares with the group some of her interesting memories of Christopher Newport's first decade. Kneeling is Baxter Vendrick. Seated behind them is CNU alumnus Taylor Quinn ('13), who took most of these photographs, and standing behind him is Katie Monteith ('11), whose family also includes other CNU alumni.
____________________________________________
We welcome your FEEDBACK. Send it to
cncmemories61_71@yahoo.com
or cnc6171@cox.net.
Published April 14, 2017
Recipients of Cunningham and Wolf Scholarships
Meet Donors
by A. Jane Chambers
Donors and recipients of the Cunningham and Wolf scholarships shared Table Number 1 at this year's 25th Annual President's Donor and Recipient Scholarship Luncheon and Program, held in the Freeman Center Field House on March 30, 2017, from noon until 2:00 P.M.
Students Zachary Pedini and Barbour Ulrich were this year's recipients of the H. Westcott Cunningham Endowed Leadership Scholarship, established in July 2007. Barbour was unable to attend the luncheon. The official CNU photograph above shows (L-R) Cunningham daughter Ann Cunningham Stachura, CNC's First Lady Cecil Cary (Cecy) Cunningham, scholarship recipient Zachary Pedini, and me.
Zachary's major is Management and his minor is Leadership Studies. As a Cunningham Scholar, Zachary was given a copy of Memories of Christopher Newport College: The First Decade, 1961 - 1971, signed by the book's three co-authors. Mrs. Cunningham also signed it for him on the page featuring a picture of her and her husband, CNC's first president. The book was dedicated to Mr. Cunningham and all money earned from it went into the scholarship in his name.
Student Emily Garnier was this year's recipient of the William D. Wolf Endowed Memorial Scholarship, established in May 1982. Emily is from Loudoun County, part of the Metropolitan DC area. She is currently doing her student teaching and plans to teach literature in a high school. Not wanting to miss her 2:00 class, Emily had to leave before the end of the program. Thus the photo above was taken at our table, where she posed with Jane Knight (Janie) Wolf, widow of Dr. William D. (Bill) Wolf, an English professor at CNC when he died in 1982 of a heart attack at age 39. An article about him is on this website, in the Archives, under sub tab Second Decade History.
As the above photo shows, more than 40 tables filled the Freeman Center's Field House at this event. The printed program had 21 pages listing over 200 scholarships, almost 500 recipients, and about 300 donors (those who established the scholarships). Scholarship opportunities at CNU continue to grow. However, funds available are unequal, with some scholarships heavily funded while others, especially older ones, like the Wolf Scholarship, struggle to survive.
If you would like to help keep the Cunningham Scholarship healthy enough to allow scholarships to be given to two or more students per year, then please donate to it. Contact Lucy Latchum at (757) 594-7702 and state that scholarship's number: 1208. If you would like to help keep the recently resurrected Wolf Scholarship alive, phone Lucy Latchum and give her that scholarship's number: 1642.
___________________________________________
We welcome your FEEDBACK. Send to
cncmemories61_71@yahoo.com
OR cnc6171@cox.net.
Published April 14, 2017
Early Men's Tennis at CNC, 1966-1968:
An Interview with John W. Morris
Reported by A. Jane Chambers
Recent photo of John Morris holding (L) the T2000 Wilson steel racket (new in 1968) that he used beginning in 1968 and (R) the Jack Kramer Wilson wooden racket he used earlier in his tennis career. John is proudly wearing a CNU shirt given to him by a friend. Photo provided by John.

JANE:

What motivated you to start a tennis team at CNC in the mid-sixties, John?

JOHN:

I had been a member of the Hilton Tennis Club in Hilton Village, Newport News, before being drafted into the Army, and while in the Army, I played on the Post team. After leaving the service and going back to CNC, with this tennis background, and my love of the game, I wanted to continue to play, and to represent CNC.

JANE:

How did you go about forming a team at CNC?

JOHN:

I talked to students who shared my interest. Fortunately

David Hall

,

Kenny Spencer

and

Mark Hughes

also shared my enthusiasm for the game. We saw the availability of the Ferguson High School tennis courts, across the street, as a plus. After discussing the possibilities, we moved forward. David Hall and Kenny Spencer went to

Dean Windsor

to ask for permission to start a varsity men's tennis team.



JANE:

Jim Windsor

told me recently that he remembers that event. As Dean of Students, he forwarded your request to

Director Cunningham

, who gave his okay. Jim believes his Dean's office set up your schedules at the beginning and that the tennis team had no coach that first year, the Spring 1966 semester—or the next. So you guys basically coached yourselves until

Bev Vaughan

joined the faculty, in the 1967- 68 year.

JOHN:

Right. When Coach Vaughan arrived, Mark Hughes and I went to him and he agreed to coach us in the Spring semester of 1968.

He also took care of the scheduling.

JANE:

One of the newspaper clippings from that first year names six members of the Spring 1966 team. In addition to you,

David Hall

,

Mark Hughes

and

Kenny Spencer

, the others were

Buddy Haley

and

Kit O'Mara

.

We've found all except Buddy Haley and Kenny Spencer.

Maybe our readers will help us find them.

Money was very tight at CNC then. Did your team have official uniforms? Equipment?

JOHN:

I am not sure we even had a team budget. Our uniforms consisted of our CNC Gym shirts and shorts, or whatever was comfortable. We had our own rackets, but I believe the tennis balls were supplied.




This 1966 photo of flag football players at CNC includes 3 of the 6 students also on the first Men's Tennis Team: Mark Hughes (center front), John Morris (center back), and David Hall (right back). The photo is from the article "69ers Capture Flag Championship,' in The Captain's Log (Nov. 30, 1966, p. 6).
| | |
| --- | --- |
| John Morris's Kramer Wilson racket and T2000 Wilson racket. All racket photos courtesy of John. | Remember these wooden presses to keep your wooden racket from warping? |
JANE:

I know there was no official mode of transportation for college events until Mr. Cunningham purchased that old used school bus (the "Blue Goose") sometime in 1968. Do you remember how the tennis team traveled to away games?

JOHN:

As far as I can remember, we got to the matches by personal cars, but

Mark Hughes

believes we traveled to long away matches, like to Christchurch and Chowan, in an old van. I don't remember that.

JANE:

Do you remember any matches in particular?

JOHN:

I remember several of them. When we played Ft. Eustis, I wasn't sure if I needed to salute my opponent before playing—he was a major in the Army; I was only a Spec 4—so I saluted him, and then I beat him.




John's story about this racket: "Just about all the time, I used this Wilson Jack Kramer (endorsed by Jack Kramer for Championship Play)--autographed model, speed flex, fibre face. After I retired the racket, some of my players, as a surprise, put a mirror in the face, so I could put it up in my office. The Jack Kramer , I believe, was available in the early 60's."
NOTE:
Kenny Spencer
and
Buddy Haley
have recently been located, just in time to be invited to attend their Class of 1967's 50th Reunion, along with tennis teammates
David Hall
and
Kit O'Mara.
PART 2 of this article will be published April 28.
Published July 19, 2013
Republished and updated on April 14, 2017
President Scotty Cunningham's Naval Service
in WW II and Korea:
Family Photos
by A. Jane Chambers
With thanks to Ann Cunningham Stachura
and CNU's Dr. Sean Heuvel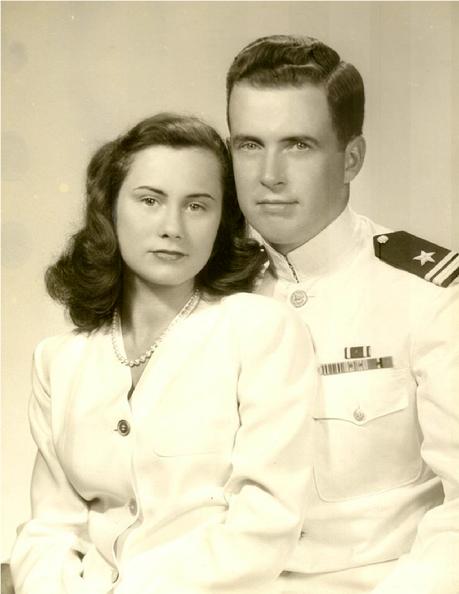 Lieutenant (JG) and Mrs. Cunningham in January, 1944. Except where otherwise stated, all photos in this article are from the Cunningham family collection provided by Ann Cunningham Stachura.
During World War II, Hughes Westcott ("Scotty") Cunningham, a native of Elizabeth, NJ, and Cecil Cary ("Cecy") Waddell met in Williamsburg, VA, as students at the College of William and Mary, and fell in love. An athlete (football and track) and scholar (bachelor's in English and master's in linguistics), Scottie joined the Navy after completing his degrees at W&M while Cecy was still a student. "World War II was on," Scotty recalled in a DAILY PRESS interview of September 9, 1962: "Miss Cecil Cary Waddell had finished her third year at William and Mary. I persuaded her to leave college and marry a struggling young lieutenant junior grade--me." *
| | |
| --- | --- |
| | Scotty became the skipper of a PT boat like the one in the above watercolor painting, and "for two years, roamed the Pacific, primarily in the area of New Guinea and the Philippines" (Aaron, DP, p. 2B). The photo at the left shows Scotty in his boat. (Is that an air mail letter from Cecy in his shirt pocket?) At about the same time, another young Naval officer, destined to become a U.S. President, was also performing the same duty, but in a different squadron: young John Fitzgerald Kennedy, in his PT 109. |
A National Park Service article, "PT Boats of World War II: From Home Front to Battle," gives a excellent summary of the boat and its functions: PT (Patrol, Torpedo) boats were small, fast, and expendable vessels for short range oceanic scouting, armed with torpedoes and machine guns for cutting enemy supply lines and harassing enemy forces. Forty-three PT squadrons, each with 12 boats were formed during World War II by the U.S. Navy.
Internet drawing of ELCO style PT boat.
PT boats were used for harassing enemy shore installations, supporting friendly troop landings, destroying floating mines, sinking enemy shipping targets, destroying enemy landing barges, rescuing downed pilots, landing partisans behind enemy lines, and attacking enemy island outposts. PT boat duty was very dangerous and the squadrons suffered an extremely high loss rate in the war (PT Boats of WW II, no page).
When Cunningham returned to the States, he and his wife went back to Williamsburg so that Cecy could finish her degree; to pay their expenses, Scotty got a temporary job at William and Mary as admission assistant to the Dean of Admission. The job turned out to be more than temporary, and he did not leave it until the

outbreak of the Korean conflict, when he was called back into the Navy (Aaron, DP, p. 2B).
Lieutenant Cunningham in his tan dress uniform. The family has donated this entire uniform for the Alumni House display. Undated photo.
Because he had contracted malaria while serving in the southwest Pacific, Scotty couldn't serve in Korea itself during the Korean War. Instead, according his daughter, Ann, he was a military briefer at the Pentagon (Info from Dr. Sean Heuvel). The DP interview of Sept. 9, 1962, states Cunningham was "one of two official 'briefers' in the Office of the Secretary of the Navy and quotes his description of his job in Washington: "We were the people who would explain the Navy's official point of view to ambassadors, legislator, and so on" (Aaron, p. 2B).
At the end of the Korean Conflict, Scotty returned again to W&M, this time as Dean of Admissions and Student Aid. Two years later, he accepted the position of Director of Christopher Newport College of the College of William and Mary, moving to Newport News with his wife, Cecy, and their first baby, Ann. There he would create a college where there was none.
From 1953 through 1970, H. Westcott Cunningham also remained an active member of the U.S. Navy Reserves, retiring at the rank of Captain, as shown on the plaque below. By that time, he had also created a place in history for himself as not simply the first President of CNC, but the first CAPTAIN of CNC--our first leader, who led us from a 2-year school to a 4-year college.
Dr. Sean Heuvel recently wrote to me: " I'm working with Ann right now to request Scotty's military service records from the National Archives, so we can get a more complete picture of his WWII service, but it may take a little while....." I expect when their work is completed, we will have an article by Ann Cunningham Stachura and Dr. Sean Heuvel giving us a much fuller picture of President Cunningham's military service than we have at present.
* Joan D. Aaron, "Temporary Job After Wartime Duty Results in Directorship of Peninsula's Junior College," p. 2
_____________________________________________________________
We welcome your FEEDBACK. Send to
cncmemories61_71@yahoo.com
or cnc6171@cox.net.
Published March 31, 1917
Local Dance Band Soul Intent
Serves the 50+ Age Group with Beach, Motown, 60's and 70's Music
By Randy Boone,
Leader and Drummer for Soul Intent
Soul Intent originated in 2014, when I got the idea of reviving the music many of the baby boomers grew up with in the 1960's. I placed the following ad on Craigslist: "Older drummer looking for likeminded musicians to play Beach, Motown, 60's and 70's music." From that ad came a stream of musicians. I also called some musicians I had played with in the 60's to see if they had any interest in playing again. Thinking most of them would probably just laugh at the idea, I was surprised and thrilled that several were anxious to pursue it.
| | |
| --- | --- |
| Between old contacts, Craigslist and friends of musicians, Soul Intent began to take shape. The band rehearsed in an attic in Portsmouth, and our first gig was played on January 31st, 2015 at the Elizabeth Manor Country Club. The band began to grow in numbers and the attic was soon too small for rehearsals. A friend offered a warehouse for our use. Band members came and went, and offers for more gigs began to come. | Randy Boone, Leader and Drummer for Soul Intent |
All of our original band members were 60 plus years old, except a young sax player. At the time he was the heart of the horn section of the band. When he told us he was moving, we knew we were in a jam. Luckily however, one of our trumpet players had played with a Peninsula saxophone player in the past by the name of Ron Lowder. Ron came and played with us at the Seawall Festival in June of 2015. I met with him shortly after that and Ron agreed to perform with us for one year.
| | |
| --- | --- |
| | The band had no idea Ron would become such a valuable part of it. His skills go far beyond playing a saxophone. They extend into the areas of composing, computer science, publishing and most of all patience. Soul Intent is now in its second year of Ron's one year commitment. The CNC family already knows Ron as the webmaster for this website and a member of the CNU "1961 Club" (a group dedicated to finding and preserving artifacts from CNC First Decade forward.). |
The purpose of Soul Intent is to play the music of our generation. It is not our goal to make you remember the songs we play. It is our goal to actually take you back in time. Many in our audience actually tell us for a brief moment in time they feel they are back in high school or college with that special person. It can be a very moving experience for the band and the audience.
There is not another band in Hampton Roads that does what Soul Intent does. The band has an amazing following of very loyal people. We receive messages from folks telling us how much they appreciate what we do for them. Soul Intent has truly touched a nerve and is filling a need for our generation. Most people that come to see us do not just like this band...they love it! They love where this music takes them. Our band has been directly responsible for the rekindling of a number of relationships and at least one marriage.
| | |
| --- | --- |
| In 2016 Soul Intent played over forty gigs, and we are booked for over thirty so far this year. Come see us at Yorktown beach on Thursday, June 15, at the Banque in Norfolk on Sunday, June 25, or at numerous dates at the Portsmouth waterfront. Additionally, we perform monthly at Roger Browns Restaurant on High Street in downtown Portsmouth. Check out our website for all our dates: www.soulintentband.com. Soul Intent: "Your trip down memory lane." | |
________________________________________
We welcome your FEEDBACK. Send to
cncmemories61_71@yahoo.com
or cnc6171@cox.net
Published March 31, 2017
| | |
| --- | --- |
| A recently widowed older woman decided to give herself a big treat for her 70th birthday by staying overnight in a really nice hotel. She enjoyed the sunset view from her balcony, the large flat-screen TV , and the king-sized bed. | |
When she checked out the next morning, the desk clerk handed her a bill for $300.00. Shocked, she demanded to know why the charge was so high. "Certainly this is a very nice hotel," she said, "but my room wasn't worth $300.00 for just an overnight stay! I didn't even have breakfast!"
The clerk told her that $300.00 was the "standard rate" and breakfast had been included had she wanted it.
She insisted on speaking to the manager. The clerk left briefly to get him. Shortly afterwards, the manager appeared and, forewarned by the desk clerk, announced with authority: "Madam, this hotel has an Olympic-sized pool and a huge conference center which are available for our patrons."
"But I didn't use them," she said.
''Well, they are here, and you could have," explained the manager. He went on to say that she could also have seen one of the in-hotel dinner shows for which they were so famous. "We have the best entertainers from the world performing here," he said proudly.
"But I didn't go to a dinner show," she said.
"Well, we have them, and you could have," he replied.
No matter what amenity the manager mentioned, she replied, "But I didn't use it!" and he countered with his standard response.
After several more minutes of discussion, and with the manager still unmoved, she decided to pay, wrote a check and gave it to him. He was surprised when he looked at the check. "But madam, this check is for only $100.00."
"That's correct," she replied. "I charged you $200.00 for sleeping with me."
" But I didn't!" exclaimed the very surprised manager.
"Well," she said. "I was here, and you could have." She winked, laughed, and promptly left.

Don't mess with Senior Citizens!
_____________________________________
Published April 14, 2017
Your DECADER committee ALWAYS enjoys feedback on items that appear on this website. The feedback can be positive or negative...doesn't matter. It is just super for us to know that you are actually visiting YOUR website and have something to share.
Please don't hesitate to send us an email with a comment...we LOVE to hear from you!
(There is an underscore between 61 & 71 in the web address above)
Donations
to our Treasury are gratefully accepted.
Make out checks to
CNC First Decaders
. Mail them to
Sonny Short, FD Treasurer,
12738 Daybreak Circle,
Newport News
, VA 23602.
This site is NOT affiliated with Christopher Newport University