1. NEW article: CNU's Commencement 2019: Photo Gallery.
2.

From 2015:

When Students Streaked at CNC: The Naked Spring of 1974.
3.

First Tenth Graders in the Community Captains Program Visit CNU.
4. Are You a Cruiser? by Ron Lowder, Webmaster.
5. NEW Humor: Don't Mess with Mama!
6. NEW

Cartoons:

Speed Bump Insects, by Cartoonist Dave Coverly.
True excellence requires a worthy dream, a good idea of how to realize it, and the courage to risk failure to achieve it.
Bill Clinton
42nd President of the United States
(Born August 19, 1946)
Why was six afraid of seven?

---
Answer shown at the bottom of this page
CNU's Commencement 2019:
Photo Gallery
Comments by A. Jane Chambers
Photos by CNU Photographers
Before Commencement 2019 began, three of the A.A. degree recipients from the Class of 1969 posed with two professors of that era, Dr. Mary Lu Royall (far left) and Dr. A. Jane Chambers (far right). The 1969 alumni are (L-R) Jesse T. Wallace, Jr., Robert E. Hines (holding the sign), and Sylvia Pearce Rumsey.
| | |
| --- | --- |
| What a difference 50 years have made at Christopher Newport. In June 6, 1969, 16 students received A.A. degrees at what was then Christopher Newport College of the College of William and Mary--a two-year, or "junior" college. Compare that with the statistics for CNU's 2019 commencement (right), which includes the granting of masters degrees as well as baccalaureate degrees. | |
Two Before-and-After traditions at CNU's Commencements are shown above. Marching toward the Great Lawn to begin the program, each potential graduate tosses a penny into the fountain located near Pope Chapel (left photo). At the end of Commencement, the degree recipients then line up at the bell tower to ring the bell from the famous SS United States, completed in 1951 at the Newport News Shipyard. Dr. Sarah Forbes paid $40,000 for the bell at an auction and later gifted it to CNU.
Awards always highlight CNU's commencements. 1984 alumnus Gregory P. Klich (above right) has for years given an Academic Achievement Award, which includes a monetary gift, to the graduate with the highest grade point average (GPA). This year, 3 students tied for that award. Mr. Klich also donated so generously to the Alumni House several years earlier that it was given his name (For more information on and photos of the Alumni House, click the Alumni House tab on this website).
The graduates shown above are the recipients of the Rosemary Trible Leadership and Service Awards. First Lady Rosemary Trible looks happy to be with these prize winners although--temporarily, we hope--being wheelchair bound. The photo below shows the graduates who are ROTC cadets as they take their U.S. Army officers' oath, administered by CNC President Paul S. Trible Jr.
| | |
| --- | --- |
| | This year's speaker was Suzanne Scheuble, daughter of 1981 CNC alumnus Dan Scheuble. She is only 22 years old, yet has already founded and is now operating a home for abandoned and orphaned children in Ethiopia. As a teenager, she witnessed Ethiopian babies being abandoned or suffering from starvation and diseases. After earning her bachelor's degree in child psychology in just two years at the University of North Florida, and consulting with pediatricians and child psychologists, Suzanne raised funds to develop the first specialized care homes for children in Ethiopia. For photos and more information, go to Lantu's Home of Hidden Treasures on Facebook. |
| | |
| --- | --- |
| As usual, CNU President Trible personally handed the degrees, one by one, to all 1,193 graduates--along with, in each case, a smile, a handshake, and a word of congratulation to each young scholar. It is a tradition he has followed for over two decades. Few institutions having over one thousand degree recipients each year include such a personal touch as this in their commencements. Also, whenever possible, CNU's First Lady Rosemary Trible stands at the exit of the stage to give each of the over one thousand happy graduates a hug, a smile, and a wish for continued success in life. | |
The loud booming of the confetti cannons, shooting colorful streamers skyward and into the audience, marked the end of yet another beautiful and successful CNU commencement.
__________________________________________________________
We welcome your FEEDBACK. Send to
cncmemories61_71@yahoo.com
or cnc6171@cox.net.
Published May 17, 2019
When Students Streaked at CNC:
The Naked Spring of 1974
by A. Jane Chambers
It must have been something in the water at that time--there was never an outbreak of such proportions again (but best we not talk about proportions when discussing CNC streakers). --Dr. Harold Cones
This occurred during Springfest. Subsequently LOTS of beer was involved. From there, details get fuzzy. --Streaker 1
Whether there was something in the water or too much beer, it was inevitable that running naked around the campus would happen at CNC in mid-March of 1974. After all, the first recorded streaking incident in America was in Lexington, VA, in 1804, where college senior George William Crump was arrested for running nude at what was later known as Washington and Lee University; decades later, Robert E. Lee even "sanctioned streaking as a rite of passage" for W&L's young gentlemen (Wikipedia). In 1974, at the venerable University of Virginia, the Cavalier Daily reported that naked students had streaked on the Lawn and in Alderman Library that February ("Student Traditions at Virginia"). Closer to home, more recently in 1974, at ODU four students (two female) streaked on motorcycles. And just the night before the 1974 Spring Streak at CNC, some 400 students ran naked at William and Mary (see Captain's Log below).
Some of the CNC streakers were members of Chi Psi Omega, the first fraternity at Christopher Newport. Forty-one years later, looking back at that famous (or infamous) event, some of the brothers who bared all and some who declared they merely watched it all shared their memories in the following dialogue.
Streaker 1: Springfest...LOTS of beer was involved.

Innocent Brother 1: I will never forget that bright sunny day. Oh my gosh. I was watching. It was a horrible sight to behold.

Innocent Brother 2: Didn't see anything impressive.

Streaker 1: (smugly) I got freebies in the bookstore until I graduated.




From p. 8 of the above Captain's Log article.
Streaker 2: I remember the college faculty gave us a standing ovation.
Innocent Brother 2: What I heard was most of the faculty said "NO BIG THING" when asked what they saw.
Streaker 1: We all ran up to the lecture hall...have forgotten the building's name. We all streaked in one door, ran in front of the blackboards, then out the side door.
Streaker 2: That was Newport Hall.
Streaker 3: I can't believe I did that. Must have been alcohol involved. Guilty as charged. I second the third and third the fourth and plead the fifth. But (to Streaker 2) YOU made me do it.
Streaker 2: (to all, alluding to Streaker 3) He was told if he was arrested he would be appearing in Small Claims Court.
Streaker 4: Ummm...I was there somewhere. Silly me.
Innocent Female: I had a professor tell me that if I would streak, he would cancel his class...No, I did not honor his request. Kind of creepy.
Streaker 4: Who was that?
Innocent Female: Professor X. Psych.
Several members of the faculty who witnessed the Spring Streak shared their memories via email, beginning with Dr. Jane Webb: Our youngest child, Wade, was maybe five and we were walking back toward Gosnold when a motorcycle roared by and Wade said, "MOM! Those men didn't have any clothes on!"
Then a couple of nudist guys whipped past the main entrance to Smith Hall, and Accountant Edna Appleton said, "I don't know what that was but it needed ironing!"
Finally, we were all sitting at one of those always-contentious faculty meetings when two, maybe three naked guys ran in one of the doors and out the other one. I don't think we got any business done that day.
Dr. Sam Bauer and Dr. Harold Cones, long-time close friends, had almost identical memories of the Faculty Meeting Streak. Sam wrote: I recall when a student ( a Psych major of course) streaked the faculty meeting in Newport. He entered from the middle hall and ran right behind the lectern and out the side door. Joanne Squires was addressing the Faculty from the lectern, and turned after the crowd reacted, just to see his unclad posterior exit the side door. She uttered "Oh My!" He was probably in the room for no more than 15 seconds. Hot times at old CNC!
Harold wrote: There I was, half sleeping my way through yet another faculty meeting as Joanne Squires droned on in the front of the room about who knows what, when the main door to Newport Lecture Hall opened and from the cavity emerged, as we say in the south, a buck naked male student. Running quickly behind Dr. Squires and out the side door, he fled the scene, leaving a wide eyed Dr. Squires with only an "oh my!" to protect herself.
Two of us who were not on campus that Friday, Professor Barry Wood and I, still recall what others told us about the infamous Spring Streak. Barry heard that two males on a motorcycle, who had left their clothes in a certain spot in a wooded area, found their clothes missing when they returned there. In a dilemma, they continued to ride around nude for a very long time. Do any of our readers know how their quandary ended?
---
| | |
| --- | --- |
| From p. 1 of the above Captain's Log issue. | We both know also what then-President Dr. James Windsor said at the faculty meeting, right after the streakers left. As things calmed down, he went up to the lectern to address the faculty regarding the budget. Known for his calm demeanor and good sense of humor, Jim said, "I had planned to show you some figures... But those were not the ones I had in mind." The faculty applauded and laughed. |
That Friday in mid-March was the major, but not the only, time during that spring of 1974 that streaking occurred at CNC. However, complaints from the public, particularly neighbors living on Shoe Lane, occasioned the note in the Captain's Log from President Windsor, after which the streaking ended at CNC. The widespread streaking fad at colleges all over America, which began in 1973, either in California or New England, depending on which sources one reads, pretty much died out by the end of April of 1974. For a fuller account of the subject, check out Wikipedia.
We welcome your FEEDBACK.
Send comments to cncmemories61_71@yahoo.com
Published November 6, 2015
Republiished May 17, 2019
First Tenth Graders in the
Community Captains Program
Visit CNU
by A. Jane Chambers
Daily Press photo by Jonathon Gruenke/ DPStaff.
Orientation Day for Potential Community Captains
On Wednesday morning, April 17, 2019, 83 special tenth graders arrived at CNC on school buses from three Newport News public high schools: Warwick, Heritage, and An Achievable Dream. They had been selected by their schools to be in the inaugural class of Community Captains at the University. Accompanied by school counselors and administrators, they exited their buses with excitement and teenaged chatter. They were greeted by CNU staff, administrators, and student mentors and were followed throughout their campus adventure by Daily Press writer Matt Jones and photographer Jonathon Gruenke. Three days later, their first experience of CNU would be a front page story in the Daily Press, with the title "Paying a Lesson Forward" (Sat., April 20, 2019).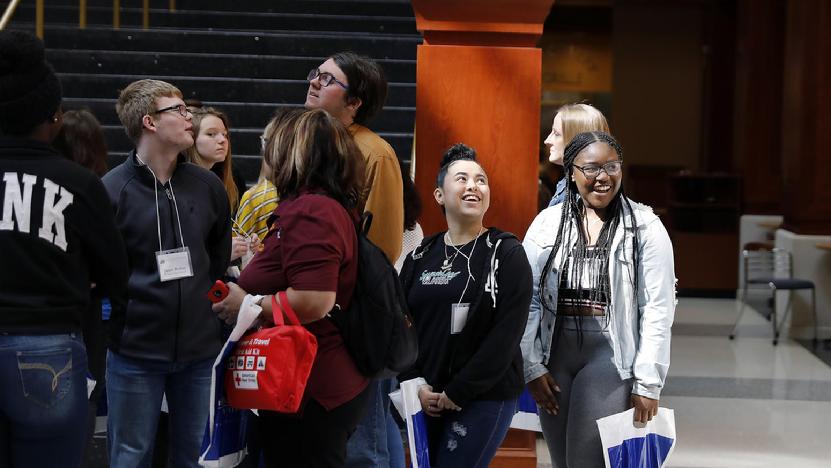 Daily Press photo by Jonathon Gruenke/DPStaff.
After registering in David Student Union, where they were given name tags and "goody bags" of assorted CNU gifts, the young visitors then gathered in the large Banquet Hall to hear an address by CNU President Paul Trible. Afterwards they met the CNU students who would be their mentors and tour guides for the day, taking them through the campus in small groups. Notice the blue and gold logo behind President Trible in the photo below, which reflects that this new program is the joint work of CNU and the Newport News Public Schools, headed by Superintendent George Parker III, who also attended this initial gathering.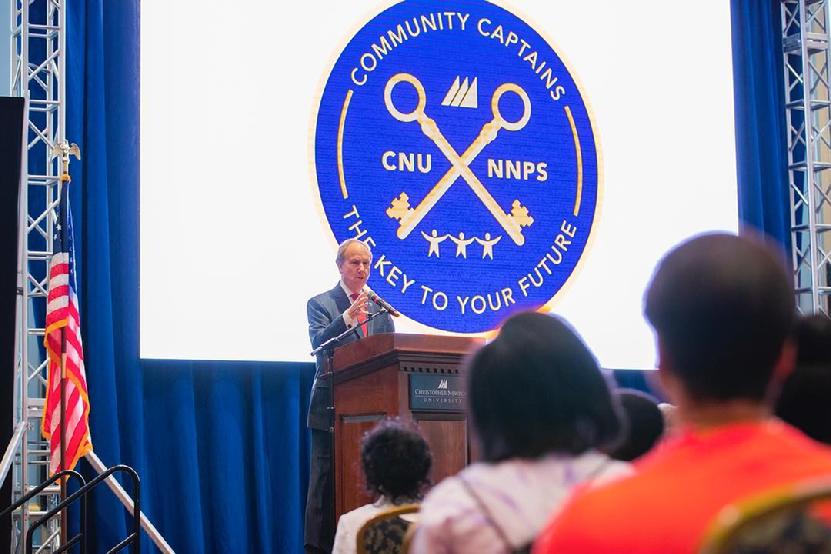 Photo by CNU photography staff.
The Community Captains Program
This program was announced and described by CNU Rector Robert R. (Bobby) Hatten in his March 28, 2019 address at CNU's Donor and Recipient Scholarship Luncheon. He described it as "a comprehensive and thoughtful scholarship program to improve the impact of CNU on our Community for those who need it most ... a joint effort between the Newport News Public Schools and CNU to provide a college education to the most economically disadvantaged, but also the most academically motivated students in our public schools ... With Federal Pell grants, and a free food program from CNU, the cost of tuition and fees will be dramatically reduced ... [However] Our goal is to provide a completely free college education to each of these students."
Daily Press photo by Jonathon Gruenke/DPStaff.
Requirements for entering the Community Captains Program are explained in detail on the University's website. Basically, to be accepted into the program sophomore students from the three Newport News schools named above must have at least 3.4 GPAs or PSAT scores of at least 1150 (out of 1600), must also be first-generation college students, or must qualify for free or reduced school lunches. Those selected will then have, periodically, free, on-campus learning opportunities at CNU during their junior and senior high school years--such as educational, cultural and social events on campus, plus informative workshops on financial aid, career planning and academic success. In their senior year, they will also take a free for-credit statistics course on campus taught by a CNU professor. Each will also have a CNU student mentor for guidance and support while preparing for college.
To be accepted as CNU freshmen, these students must maintain at least a 3.4 grade average through high school graduation, score at least a 1050 on the SAT test, and fulfill all requirements at their high schools. CNU expects a total of approximately 25 students from these Newport News public high schools to qualify for admission to the University each year, with the first 25 entering the University in 2021.
In his Daily Press article of April 20, reporter Matt Jones described the Community Captains Program as being "conceived several years ago by CNU Provost David Doughty," who is pictured in the above CNU photograph talking with some of the high school sophomores during their orientation visit on April 17. Dr. Doughty "was inspired by partnerships CNU has with medical schools that help create pathways for students to attend Eastern Virginia Medical School in Norfolk and the Edward Via College of Osteopathic Medicine in Blacksburg." Doughty's decision to make the GPA requirement 3.4 "was carefully chosen" in a study he made of some 125 college students "from local high schools." Comparing their high school GPAs with their college freshman GPAs, he found that "students with above a 3.4 GPA, which is lower than this year's freshmen class average GPA of 3.81, mostly continued their success in college." Doughty convinced President Trible, and then NNPS Superintendent George Parker III, to undertake the Community Captains Program.
This final photograph, taken by a CNU photographer, shows all 83 of the hopeful Newport News high school sophomores on the steps of Newport Hall at the end of their grand adventure, which also included lunch on campus at the Regattas dining hall. Differing in races and ethnic backgrounds, just as in shapes and sizes, they share two things: All are economically disadvantaged, but all are academically motivated. Will all 83 maintain that 3.4 or higher GPA their junior and senior years? Will all fulfill those additional requirements for admission to CNU in 2021? Or will their final number drop, as anticipated, to only 25? Let us wish "God speed" to all of them, whatever their futures may be.
__________________________________________________________
We welcome your FEEDBACK. Send to
cncmemories61_71@yahoo.com
or cnc6171@cox.net.
Published May 3, 2019
Are You a Cruiser?
by Ron Lowder, Webmaster
My wife and I have taken at least one cruise a year since my 2008 retirement. Like other folks my age, we finally have had the time and resources to enjoy travel occasionally. We have taken a number of cruises and found them a major way to relax, enjoy a change of scenery and see the world.
My purpose here is two-fold: (1) to solicit input from those of you who have taken a cruise or multiple cruises and care to share your experiences with your fellow website readers, and (2) for me to share with those of you who have not cruised but are contemplating it, a few things you might want to consider before booking that first cruise. I am not an expert on cruising but there are a few things I have learned over the years that might be of benefit to you.
So, ARE YOU A CRUISER?
IF YES
We would love to hear about your cruising experience! Please take a few minutes to describe your most enjoyable cruise, including the following:
Cruise departure port

Cruise departure date

Name of cruise line

Name of the ship

Ports visited

Cruise highlights and any interesting experiences

Your rating of the cruise
Please email your write-up to Dr. Jane Chambers,
IF NO
If you are contemplating a cruise in your future, the following might help in your planning. Below are some of things you will have to decide along the way.
WHERE DO YOU WANT TO GO?
Your preferred cruise destination will dictate critical aspects of your cruise such as these: Where the ship departs from, how many days the cruise lasts, whether the cruise ends at the same port from which it departs (most do except for transatlantic cruises), where the ship stops on the way there and on the way back, and how much money you are willing to part with in order to take the cruise.
DEPARTURE PORT
We have cruised from a variety of ports including Ft. Lauderdale, Miami, Charleston, Baltimore, and New Jersey (Port Bayonne). An advantage to departing on a cruise from Baltimore is that it is possible for us to drive to the port from our home in Newport News in just 3 hours. There is parking available at all ports from which we have departed. If you plan to park at the port, expect a daily parking fee of anywhere from $6 to $20 a day depending on the proximity to the ship and the level of security provided for your vehicle. If you fly to the city where the port is located, there will be shuttle buses to take you from the airport to the ship (and vice versa). If you take a bus such as Greyhound, check to be certain it will take you to the port.
Getting to the port is a very important first step. Each method of transportation has its advantages and disadvantages and costs can vary greatly. I recommend spending time to research the best option for your budget. The cost of transportation to and from a cruise port can often be as expensive as the cruise itself, or more.
CABIN SELECTION AND BOOKING
The cost of your cruise will also depend on which category of room you choose. Most cruise lines offer a variety of options within these broad categories:
Inside Cabin (with or without a window)

Balcony Cabin

Suite
| | | |
| --- | --- | --- |
| Inside Cabin | Balcony Cabin | Suite |
Please note that room appearances vary greatly within a single ship and on different cruise lines. It is wise to get a picture of the exact room category that is being booked.
Another cost factor is when you book your cruise. There are two time periods that are usually most advantageous cost-wise. It is usually cheaper to sign up for a cruise nine months to a year before it departs. However, cruises that depart within the next 30 days often have bargain rates if the cruise has not sold out. Cruise lines attempt always to sail with a full ship; otherwise they will lose money. That is why prices can change drastically, particularly during the period just before a cruise departs.
An additional angle involving cost is the cruise line's reward program. if you are a member of the cruise line's reward program, you might get a better deal. Regardless, it is wise to check the prices on a daily basis. Often, if the advertised price goes down, the cruise line may refund the difference to you (but only if you ask). Also, if rooms in a certain category are not selling fast enough, you may be offered a free or small cost upgrade.
Options available for booking your cruise are doing so directly from the cruise line you have selected, or using one of several online companies that specialize in finding you the best deal. We have used both approaches but find that the best deals are available via the on-line companies. Those we like best are
www.vacationstogo.com , www.cruisesonly.com and www.costcotravel.com .
ACTIVITIES DURING PORT VISITS
There are two categories of port-visited activities that you can book in advance of your cruise: Those sponsored by the cruise line and those sponsored by independent companies at the port visited. Generally, independent company's prices are better than those of cruise-sponsored activities. If using an independent source, however, check its reputation on-line and make sure your activity gets you back to the ship in plenty of time before the ship departs.
Activities such as tours, scuba diving, and hang gliding are typically offered at ports. Again, make sure your booked event is via a reputable company.
DAILY COMMUNICATIONS ONBOARD
Royal Caribbean publishes a daily flier entitled "CRUISE COMPASS" which is delivered to your cabin nightly. It covers the next day's activities on board ship and other critical information. Below is a page from a typical Compass edition.
A cruise ship is like a floating hotel. The bigger the ship, the more activities going on during the day and night. As the above Compass page shows, there are generally more things to do onboard when the ship is sailing than when it is in a port.
SUMMARY
Booking a cruise is not rocket science but it does require some detailed planning. I hope that some of the information presented above will be of value to you novice Cruisers. I hope we will also hear from you experienced Cruisers regarding your personal cruise experiences.
__________________________________________________________
We welcome your FEEDBACK. Send to
cncmemories61_71@yahoo.com
or cnc6171@cox.net.
Published May 3, 2019
Don't Mess with Mama!
by A. Non
Yesterday my daughter e-mailed me again, asking why I didn't do something useful with my time. Like sitting around the pool and drinking wine is not a good thing? I asked. Her talking about my "doing-something useful" seems to be her favorite topic of conversation. She was "only thinking of me," she said and suggested that I go down to the Senior Center and hang out with the gals.
I did this and when I got home last night, I decided to play a prank on her. I e-mailed her and told her that I had joined a Parachute Club. She replied, "Are you nuts? You are 78 years old and now you are going to start jumping out of airplanes?" I told her that I even got a Membership Card. I e-mailed a copy to her.
She immediately telephoned me and yelled, "Good grief, Mom, where are your glasses? This is a Membership to a Prostitute Club, not a Parachute Club!"
"Oh man, I am in trouble again," I said. "I really do not know what to do. I signed up for five jumps a week!"
The line went quiet. Then her friend picked up the phone and said that my daughter had fainted.
Life as a Senior Citizen is not getting any easier, but sometimes it can be ever so much fun.
SPEED BUMP INSECTS
By Cartoonist Dave Coverly
ANSWER: Because seven ate nine!

Dr. Jane Chambers, Editor and Head Writer

Ron Lowder Sr., Webmaster
Donations
to our Treasury are gratefully accepted.
Make out checks to
CNC First Decaders
. Mail them to
Sonny Short, FD Treasurer,
12738 Daybreak Circle,
Newport News
, VA 23602.
Your DECADER committee ALWAYS enjoys feedback on items that appear on this website. The feedback can be positive or negative...doesn't matter. It is just super for us to know that you are actually visiting YOUR website and have something to share.
Please don't hesitate to send us an email with a comment...we LOVE to hear from you!
(There is an underscore between 61 & 71 in the web address above)
This site is NOT affiliated with Christopher Newport University