1. NEW article: Why the Name Shoe Lane? Historical Street Names in the CNC/U Area.
2. From our Archives: Living with Professor Robert M. Usry, by Ron Hunt ('65).
3. CNC's First Fraternity, Chi Psi Omega: A Long-Lasting Brotherhood.
4. Two Vivid Examples of Jim Windsor's Fortitude [A Memories Book Bit].
5. NEW Feedback
6. NEW Humor: Computer's Gender?
7. NEW Cartoons: Gary Larson's Far Side Funnies.
Success is never permanent, and failure is never final.
American Football Coach, player, commentator
You heard me before, yet you hear me again, then I die, 'til you call me again. Who am I?
---
Answer shown at the bottom of this page
Why the Name Shoe Lane?
Historical Street Names
in the CNC/U Area
by A. Jane Chambers
with Thanks to Mike Coburn for inspiring this article
After I had talked briefly about the names of CNC's first buildings, someone asked, "Where did the name 'Shoe Lane' come from?" The occasion was the May 12, 2017 Golden Reunion of CNC's Class of 1967. "I have no idea!" I admitted. Then alumnus Mike Coburn spoke up, saying he thought the name came from some horse stables in the area long ago.
SHOE LANE
Mike later emailed me to confirm that his memory had been correct. Shoe Lane and two streets that meet it directly across from CNU, Briar Patch Place and Paddock Drive, "relate to the stables that once occupied that piece of property." He included a link to a Daily Press article of May 24, 1992, " 'Tally-ho' Is A Virginian Tradition," written by Alexander Wiatt, a Hampton veterinarian. It mentions that in 1946, the Hampton Horse Show (dating from the 1920s) moved to Mrs. R.W. Mitchell's Briar Patch Stables on Shoe Lane, in then Warwick County, and was renamed the James River Hunt. So these three names originally honored horse shoes, horse stables, and small enclosed fields for holding horses near stables (paddocks) .
On the 2017 CNU campus map above, Shoe Lane is near the bottom, above the word "ATHLETICS." The mark just right of the word "Lane" indicates the beginning of Paddock Drive. The mark left of the word "Shoe" shows the beginning of Briar Patch Place. The original street address of CNC was 50 Shoe Lane and the road began at Warwick Blvd.
MOORE'S LANE
Crossing Shoe Lane just past Briar Patch Place (see campus map) is Moore's Lane, the second residential boundary of Christopher Newport. That name also goes back to the rural days in Warwick County. Les Pendleton, who was at CNC 1965-66, recently wrote to me that his maternal grandparents were "the Moores for whom that lane is named. " They had a farm on that lane, he recalled, and Les's family also lived on Moore's lane, as did many of his "aunts, uncles and cousins."
Les Pendleton's maternal grandparents were among the many people who sold their land between 1961 and 1963 to the City of Newport News once the City decided to provide 72 acres of land in the Shoe Lane area for the "new campus" of CNC. The farm the Moores sold bordered Moore's Lane and included what is now CNU's Parking Lot I (yellow square on the map).
WARWICK BOULEVARD
Warwick Blvd. (campus map, right), one of the four original boundaries of CNC/U, now splits part of the campus. The name "Warwick" has an interesting history. After the founding of Jamestown (1607), the Virginia Colony was divided in 1634 into eight shires (counties), one of which was called "Warwick River Shire," because that river had become a major port on the James. The area was essentially (with few changes) what is now the City of Newport News (see map below).
| | |
| --- | --- |
| Historian Dick Anderson, in A History of Warwick (1953), wrote that the name "Warwick" was "after Sir Robert Rich, Second Earl of Warwick, who was a prominent member of the Virginia Company, though he never visited the [New] World County bearing his name. Patterned after county government in England, Warwick was then governed by a lieutenant and an elected sheriff." In March of 1643, the Colonial Assembly "outlined the boundaries" and "shortened the name to Warwick County." | |
In 1869, the village of Newport News broke from Warwick County to become the independent City of Newport News, having grown considerably after development of the coal piers, the eastern terminus of the C & O Railroad, and Newport News Shipbuilding and Dry Dock Company. In I952, the remainder of Warwick County became, briefly, the City of Warwick. Then, in 1958, Warwick became part of the city of Newport News (Wikapedia).
J. Clyde Morris Boulevard, which meets Warwick at the entrance to CNU and The Mariners' Museum, was so named in 1958 by the Warwick City Council to honor the only city manager of the City of Warwick. Mr. Morris (1909-87) also was a leader in the funding, building, and operating of the Chesapeake Bay Bridge-Tunnel, completed in 1964 (Wikapedia).
The map above is from page 2 of the 1970-71 CNC catalog. In the upper left corner you can see the small corner of Prince Drew Road that was originally the fourth boundary of the campus. The 2017 CNU map (at beginning of article) shows most of that street now as a major boundary. I have found no information about its name.
HIDEN BOULEVARD
In recent years, part of Hiden Blvd. (pronounced HY-den) has become a new boundary of Christopher Newport (upper right on CNU map). This name honors Philip Wallace Hiden (1872-1936), a businessman and mayor of Newport News (1920-24) who owned most of the land in Warwick County in the Nutmeg Quarter area. Hiden also organized and directed the James River Bridge Corporation, which funded and built the original James River Bridge, which opened in 1928, plus two other Southside toll bridges, thus opening travel from Newport News to Portsmouth, and (via the private bridge built by Carl Jordan) to Norfolk, to vehicular traffic rather than ferries (Wikapedia).
| | |
| --- | --- |
| | Mr. Hiden died in 1936. His wife, Martha Woodroof Hiden, born in 1888, lived until 1959. During 1951-57, the family divided a 200-acre parcel of land in the Nutmeg Quarter area into the residential neighborhood they named Hidenwood--possibly a combination of the name "Hiden" and "Woodroof," Mrs. Hiden maiden name. |
Do you have questions and/or information about the early years of Christopher Newport? If so, contact us! You too might inspire an article for this website--or write an article yourself!
______________________________________________
We welcome your FEEDBACK. Send to
cncmemories61_71@yahoo.com.
Published June 23, 2017
Living with Professor Robert M. Usry
I lived with government and history professor Mr. Robert Usry my last two years at CNC (1963-65) before I went to Old Dominion and finished my degree in History. I found Mr. Usry set in his ways with more idiosyncrasies than I could count but he also really cared about the well being of me and the other young men living with him. He was an especially gracious person who loved what he did.
He was a bachelor and over the years obviously determined how things were supposed to be. Exceptions to his way of doing things were to be held to an absolute minimum. For example, my roommate, Jim Paxton, and I had a huge list of do's and don'ts which included all kinds of cleaning and hygiene items—such as that beds had to be made every day, the bath had to be cleaned according to certain instructions, dinner was to be eaten at 5:00 p.m. (no exceptions), and bed time was 10:00 p.m.

However, I really appreciated him—especially his integrity and the fact that he gave me room and board at a great price of $100 a month. I had so little money and had to work part time, so his price couldn't be beat. Despite the fact we had black eyed peas five days a week, Mr. Usry was a good cook and he really cared about our well being. He also had a good sense of humor. I particularly remember an incident that occurred one night in his living room. We were studying and all of sudden Mr. Usry broke out laughing. He was grading history papers. "Here, read this," he said. The student had written: "and Martin Luther hung his 99 feces on the Augsbury

church door."

All in all, living with Mr. Usry was a great inspiration and was the main reason I ended up majoring in history at ODU.




Mr. Usry, 65 TRI, p. 18

"Ronnie" Hunt as TRIDENT staff member. 1965 TRIDENT, p. 26.
| | |
| --- | --- |
| | RONALD H. (RON) HUNT (65 FD) was active at CNC as 1965 Trident Advertising Manager, Dramatic Workshop Secretary, and an officer in the first Student Athletic Association (SAA) in 1964-65. He earned a BA degree in history at ODC [now ODU] in 1967. Since 1977, he has been a real estate developer and manager of apartments and mixed use in Richmond. He and his two sons own and operate Genesis Properties, Inc., specializing in adaptive reuse and renovations. Genesis has completed over 2500 units, manages some 1500, and currently has 469 units under development. Ron and his wife, Patti (married since 1965), also have five grandchildren and live in Richmond. |
Published March 8, 2013
Republished June 23, 2017
CNC's First Fraternity, Chi Psi Omega:
A Long-Lasting Brotherhood
by A. Jane Chambers
with information and photos from 
CNC's original frat brothers
and Trident yearbooks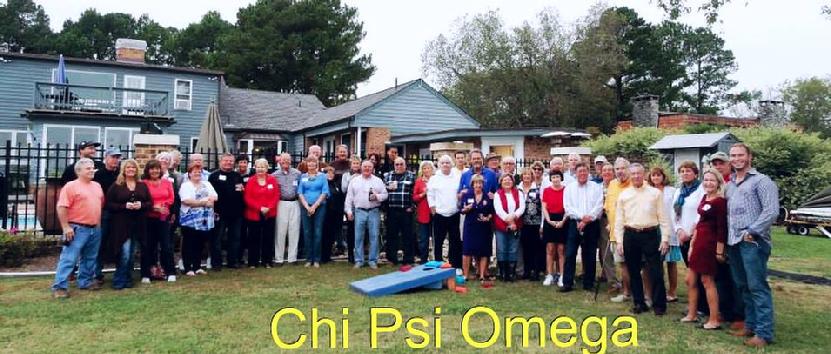 Photo of CPO members, families, and friends taken in 2014 at the York County home of member Henry Jones, on the occasion of his 60th birthday.
NOTE: If you or someone you know belonged to this first fraternity at CNC, you might want to look at and perhaps even join this group on Facebook: Friends of Chi Psi Omega.
Christopher Newport's first fraternity, Chi Psi Omega (CPO), founded in the spring semester of 1970, quickly became a major social hub during those years when CNC had no dorms and few clubs that provided social activities. Strong bonds were formed not only within the fraternity but also with other CNC students, including some members of the school's first sorority, Pi Kappa Sigma, which was also founded in spring 1970.
Some Peninsula-area members of CPO, who had kept in touch for decades after leaving CNC, reactivated their fraternity beginning about 2006-2007, and since that time, they have continued to reconnect with more CPO brothers and friends and to hold social events, usually at members' homes. The photo below, taken in 2014, was made at the home of Roman and Melinda Schenkkan, during Roman's 60th birthday party. The two women, Candace (Candy) Hixson Whitley (L) and Melinda Schenkkan (R) were in CNC's first sorority, Pi Kappa Sigma. The CPO brothers are (front, L-R) Roman Schenkkan, John Norman, Richard (Rick) Fox, Chris Wilson and Ron Haskins and back (L-R) David Whitley (Candy's husband), Henry Jones and Carl Farris.
The 1971 Trident devoted 2 full pages to CPO, including five photographs, on pages 46 and 47. The excerpt below lists and shows the 9 first officers and the sponsor, professor Graham Pillow (p. 46). The location is the front steps of the fraternity house, discussed here later. There is also a half-page picture of 17 charter members (including these 10) but the quality is so poor that the faces (and even some bodies) can hardly be seen. Names of the 7 additional first members listed under that photo are Richard Hahn, Tom Maney, Gerald DesLauriers, Tom Knez, Pat Giguere, Dana Meredith and Walt Grizzard.
The 1972 Trident photo below (from p. 50) shows an almost doubling in size of the fraternity its second year, with 22 members pictured and an additional 9 named but not shown, for a total of 31. This photo was also taken on the front steps of CPO's rented house.
Doug Duncan, CPO's first treasurer (Spring 1970), then its president in both 1970-71 and 1971-72, recalls two reasons for this surge in growth: intramural sports and dances. "We had intramural basketball and flag football teams and hosted several dances on campus," he wrote. "The college put on some dances in Ratcliffe Gym that were poorly attended, while our house was packed on the weekends. So I was called by the administration to see if we would host and manage a couple of dances at the campus, which were huge successes. We knew how to throw a party. On the downside," Doug added, "I was in President Windsor's office more than once answering inquiries about our activities."
Crucial to the fraternity's appeal also was the fact that CPO had a HOUSE--fondly called by some "The Palace"--which, although long since demolished, is enshrined in memories and a few pictures. It was an older, modest-sized two-story house (photo above) located at 11514 Warwick Blvd. (map above). Gerald DesLauriers accurately recalls that it was "on the left side of Warwick Blvd if you were traveling South and was about halfway between Matthew Road and Fontaine Road." The house sat back from the road, with a large front yard. After it was razed, the lot was divided and two two-story frame houses were built there, close to the road, in 2003.
First treasurer Doug Duncan was charged with negotiating the lease for "The Palace" in Spring, 1970. Henry Jones, CPO president in 1973-74, remembers that the owner was Cecil Moore, an attorney in York County. Doug recalls being "a big hit in his law office with my purple bell bottom pants." Moore had bought the house, Doug says, "to put his law office there, but had had trouble getting it zoned properly," which is why he decided to lease it to the fraternity. The rent was, Henry recalls, "$200 a month. "Every summer we'd get behind in the rent; then we'd have a keg party as a back to school dance, and we'd be flush with money again."
| | |
| --- | --- |
| | Doug recalls that "the house was run down but with a lot of effort we made it at least habitable. Shown left is a "Spring Work Party" taking a break: Top row (L-R) Stacy T. Louis, Henry Jones, and C.D. Young; middle (L-R) John Norman, Chris Wilson, and Jeff Meyer; and bottom (L-R)Graham Spady and Bob Johnston. |
Gerald remembers helping to "remodel" the old house right after they leased it: "I was working at the Sears store in Denbigh and remember getting some gallons of clearance paint and along with a few other members painting much of the house. If I remember correctly some of the colors were 'strange' but it was cheap and we really did not care!"
Several members lived in the house, including, Doug recalls, Doug Henkel and Jon Grimes, and at least one dog. Robert Sowell wrote on the group's Facebook page that he lived there "for a few months.," during which, when he was by himself at night, strange things would happen. "Loud noises would come from inside...noises like stomping on floors, especially the staircase" and "very loud noises knocking on my bedroom door. There were times when things got so bad in there that I just slept in my car....I don't know why I experienced this, but it was real and it scared the heck out of me." Was it ghosts? Brothers sneaking back in to scare him? Or too much beer?
Beer was CPO's main source of revenue. Doug Duncan wrote: "We had a drink machine at the house dispensing beer for 25 cents. We would go to Farm Fresh, which had some beer on sale each week for $1 per six pack, mostly Schlitz. Making 50 cents on each six pack we were able to fund most of the fraternity. We also had a keg party once every couple weeks." Henry Jones is the bartender above (L). Stacy T. Louis and Debby Hixson (later Eure) are the Halloween party people (R).
In addition to playing intramural football and basketball on CNC's campus and attending and hosting social events there, the college's first fraternity provided a social atmosphere near campus for other students. "We never really checked for membership, Doug states. "If you were attending CNC ... you were always welcome."
Candy Hixson, a first CNC sorority member, remembers that after she met David Whitley (later her husband) in April of 1972, the two attended so many CPO parties that "people probably thought he was a fraternity member." Both are active members of the now reunited group. Other marriages related to CPO include those of Doug Duncan and Pi Kappa Sigma member Pam Sanderson, Jeff Meyer and Susie Buckley, and Greg Breault and Darcy Pettijohn.
Member John Norman's parents had a beach house on Currituck Sound, near the Nags Head area, so there were several summers (particularly 1972 & 73) when the fraternity had "Beach Week" there. The photos above show some of them and friends playing match stick poker (L) inside the Normans' cottage and sunbathing on the family's boat dock (R), which had a distant view (far left) of the bridge between Nags Head and Roanoke Island. The poker players are (L-R) Doug Duncan, Greg Breault, Doug Henkel, Rich Hahn, Mike Plott, and barely visible, Terry Shannon. Who are the sunbathers?
The Chi Psi Omega brothers from the early 1970s are now in their early sixties, but for some, Christopher Newport is still an important part of their lives. A number of them are active alumni, attending sports events, homecomings, and other activities at now CNU. At least three were among CNU's Top 50 Alumni honored in 2011 during the University's 50th Anniversary: Doug Duncan ('72), Carl Farris ('74) and Henry Jones ('75). The photo below left shows (L-R) CPO brothers Graham Spady, Henry Jones and Dave Hutcheson at a tailgating party before a CNU football game in 2013. The other photo shows (L-R) Ron Haskins and Henry Jones talking with CNU'S Alumni Relations Director Baxter Vendrick on Sept. 16, 2016, during the Column Signing event at the almost-finished Alumni House.
Along with families and friends, the brothers also get together as often as possible to celebrate birthdays or just to celebrate life itself, remembering those they have lost to death, including Pat Giguere, Jon Grimes, and most recently, Dick Werstein. Most of these gatherings are at members' homes. At a party on November 6, 2016, held at the home of John and Elaine Norman, they had the photo below made at my request, especially for this article. Seated in front (L-R) are Chris Wilson, Henry Jones, and Steve Kiger. Standing in the middle are (L-R) Ron Haskins, Roman Schenkkan, Stewart Patterson, and Marvin Adams. Standing at the back are (L-R) John Norman, Earl Lankford, and Robert Sowell. May this brotherhood and their friends enjoy many more such parties!
We welcome your FEEDBACK. Send it to
cncmemories61_71@yahoo.com
OR cnc6171@cox.net.
Published June 9, 2017
A Memories Book Bit:
Two Vivid Examples of Jim Windsor's Fortitude
Professor Barry Wood's Memory
Excerpts from pages 165-166 & page 169 *
It was seeing Jim at home that let me understand him best. He was of average height but was muscular--always holding within his Marine Corps body both carefully orchestrated reflexes and a willpower that ordered and disciplined his emotions.
| | |
| --- | --- |
| | In the Corps, he had had the extremely dangerous assignment of living moment by moment in the face of "this fell Sergeant, Death" by walking in front of everybody into minefields to find mines, to use his steady hands to defuse these mines, and finally to walk on. This was to be done over and over again, day by day, month by month. It was through this prism that I came to understand him and through this faceted glass I have held him many years. |
And it was, thus, I saw him over a period of four days in June 1965 as he had twice stood at home looking from the high banks of the James River just above Jamestown. A tough frugality had joined his body-led confidence to convince him that by himself (and with a plan designed by the Army Corps of Engineers), he could build a pile driven wooden seawall across three hundred feet of property to shut off the threat of natural erosion of his bank--and so, for three months--March, April, May--he had gone home to drive piles and then to attach them firmly to each other until he had a wall.
The last pile in and attached, he had arranged for his yard to be landscaped, with a sharply dropping taper that would carry his yard beautifully to the top of the wall. Needless to say, this action moved thousands of pounds of loose dirt to press against the backsides of the wall. All might have been well had a pouring rain not shown up unexpectedly on the very next day, raising the dirt's weight up and up and up.
It so happened that both of our families had planned to go to the World's Fair in New York City on the next day. Thus, Ann and I at dawn drove up Route 5 and onto the lane leading to their house, only to hear the groaning of the seawall trying to resist the push of the ever-increasing weight. We found Jim was calm, accepting that there was nothing he could do but wait and that he could wait as well in New York City. And so we hit the road, joking off and on that God might be on the hunt for a new Job.
When we returned four days later, there had been more rain--and his great wall was down and silent. Now, I would have cried, screamed, cursed until my soul had been irrevocably damned. But Jim stood there in silence and in balance like a Marine looking at a battlefield of undefeat. On the next day, he set out to start all over again. This capacity to deal with frustration and to move on and to move ahead--call it forbearance--made him the College's leader as a faculty member and as an administrator.
* * * * * * *
Through his eighteen-year career as teacher, counselor, dean, and president, Jim remained a person of fortitude, integrity, and reason who both extended the legacy of Scott Cunningham and put upon CNC his very own mark.
---
* "James C. Windsor: President, 1970-1979," by Barry Wood, in Memories of Christopher Newport College: The First Decade, by A. Jane Chambers, Rita C. Hubbard, & Lawrence B. Wood, Jr. (Hallmark, 2008). TO ORDER BOOK: Send check for $20 made out to Jane Chambers to: Dr. Jane Chambers, 15267 Candy Island Lane, Carrollton, VA 23314. The money (minus mailing cost) is donated to the CNC First Decaders' Treasury.
______________________________________
We welcome your FEEDBACK. Send to
cncmemories61_71@yahoo.com
OR cnc6171@cox.net.
Published June 9, 2017
Re: CNC's First Fraternity (Chi Psi Omega):
From John Norman: What a great article, thanks so much for sharing.
From Candy Hixson Whitley: Thank you for doing the article. Thank you for all that you do for all of us.
From Doug Duncan: Very nice article. Many thanks.
From Melinda Schenkkan: Great story, Jane!
From Henry Jones: Very nice. You can write about us anytime.
From Ron Haskins: Agree with Henry. [Re: deceased members] Need to mention Dickie Wartham and Mike Plott as ones holding frat parties in heaven. Can you imagine Patty [Giguere], 2 Dickies and Father [Jon] Grimes having Friday Happy Hour!
Re: Jim Windsor's Fortitude:
From Jan Giguere Clarke: I loved the wonderful story about Dr. Windsor--truly an Officer and a Gentleman, as well as a fearless leader.
Re: Pat Giguere (KIA in Grenada):
From Jan Giguere Clarke: I am so grateful to you for this newest article about Pat - and the additional information you added. I forwarded it to all our relatives.
Computer's Gender?
by A. Non
A Spanish teacher was explaining to her class that in Spanish, unlike English, nouns are designated as either masculine or feminine.
"House" for instance, is feminine: "la casa."
"Pencil," however, is masculine: "el lapiz."

A student asked, "What gender is 'computer'?"
Instead of giving the answer, the teacher split the class into two groups, male and female, and asked them to decide for themselves whether "computer" should be a masculine or a feminine noun.
Each group was asked to give four reasons for its recommendation.



The men's group decided that "computer" should definitely be of the feminine gender ("la computadora") because:
1. No one but their creator understands their internal logic.
2. The native language they use to communicate with other computers is incomprehensible to everyone else.
3. Even the smallest mistakes are stored in long term memory for possible later retrieval; and
4. As soon as you make a commitment to one, you find yourself spending half your paycheck on accessories for it.

The women's group, however, concluded that computers should be masculine ("el computador") because:
1. In order to do anything with them, you have to turn them on.
2. They have a lot of data but still can't think for themselves.
3. They are supposed to help you solve problems, but half the time, they ARE the problem; and
4. As soon as you commit to one, you realize that if you had waited a little longer, you could have gotten a better model.
The women won.
We welcome your FEEDBACK. Send to
cncmemories61_71@yahoo.com
OR cnc6171@cox.net. 
Published June 23, 2017
GARY LARSON'S FAR SIDE FUNNIES
Your DECADER committee ALWAYS enjoys feedback on items that appear on this website. The feedback can be positive or negative...doesn't matter. It is just super for us to know that you are actually visiting YOUR website and have something to share.
Please don't hesitate to send us an email with a comment...we LOVE to hear from you!
(There is an underscore between 61 & 71 in the web address above)
Donations
to our Treasury are gratefully accepted.
Make out checks to
CNC First Decaders
. Mail them to
Sonny Short, FD Treasurer,
12738 Daybreak Circle,
Newport News
, VA 23602.
This site is NOT affiliated with Christopher Newport University