ARTICLES ON THIS PAGE:
(Today through August 3rd

)



1. NEW Announcements.
2. NEW article: The New and the Old Shared Homes of CNC/U and PFAC.
3. From our Archives: WGH AM Radio, Part 2: Dick Lamb and the Microphonies.
4. WGH AM Radio, Part 1: "Station of the Stars" in the Sixties and Early Seventies.
5. Edna Carney: CNC's First Secretary.
6. NEW Feedback.
7. NEW Cartoons: Dan Piraro's Bizarro Cats.
Life is a long lesson in humility.
Scottish dramatist & novelist
What kind of horse comes out only at night?
---
Answer shown at the bottom of this page
1. The PICNIC 2017 SIGN-UP SHEET will be posted here on August 4 and updated through Sept. 22. If planning to attend this SEPT. 24th EVENT, email your NAME & number of GUESTS (if any) to cncmemories61_71@yahoo.com no later than Sept. 20. More details will be posted with the sheet on Sept. 22.
2. The CLASS OF 1968's 50th REUNION will be held on May 11 (Fri. afternoon & evening) & 12 (Sat. morning), 2018. Both degree recipients and non-degree sophomores of 1968 will be honored. SAVE THE DATE !
3. DAVID SPRIGGS HAS BEEN NOMINATED for the Chambers Volunteer Service Award, created by the CNU Alumni Society in 2014. He has ably served as Chairman of the CNC First Decaders (FDs) since the group's beginning, in 2010. He is the creator and keeper of our ROSTER, ever being updated, and the organizer of our yearly picnics. Although living in Norfolk, "Cap'n Dave" has never missed a meeting of our FD Crew and never failed to be among the first to arrive at our picnics and the last to leave them--setting up before and cleaning up after each event. Given that his time as a CNC student was interrupted his freshman year by acceptance at the U.S. Naval Academy, his devotion to the CNC FDs is exceptional.
| | |
| --- | --- |
| 4. CNC FIDGET SPINNER AVAILABLE: Webmaster Ron Lowder recently got an online advertisement for a personalized spinner shaped like a ship's wheel. He ordered one with CNC on it. This metal spinner is about 2 3/4 inches in diameter and spins freely by holding the center hub and giving it a twirl (NO batteries). It is relatively inexpensive and comes with a round zip-up case. If interested in getting one, the company name is Qualtry. The company is accessible via the internet. | |
The New and the Old Shared Homes
of CNC/U and PFAC
by A. Jane Chambers
Front view of the planned Fine Arts Center. The artistic renderings and area campus map used in this article were provided to CNU by Glave & Holmes Architecture and are used courtesy of CNU.
The New Shared Home
In the summer of 2020, CNU plans to open a $50.5 million Fine Arts Center that will be the new home of both its Department of Fine Arts and Art History and the Peninsula Fine Arts Center (PFAC). To be built adjacent to the Ferguson Center for the Arts, viewed from Warwick Boulevard the new building will look like an extension of Ferguson Center. In fact the colonnade in front of Ferguson will be extended to the right, adding to that effect. The new center will serve both CNU students and faculty and, through PFAC, the entire Peninsula community, as well as visitors from elsewhere. Moving into it will also be a homecoming for PFAC.
In its front page article "New Digs for Fine Arts" (July 5, 2017), the Newport News Daily Press states that the three-story, 110,292-square foot building, now being designed by Glave & Holmes Architecture (which has designed many CNU buildings), will be funded by the state and built on land now used as the visitors' parking lot behind Pope Chapel. It will include a large gallery and programming space for PFAC, a lecture hall, and classrooms and studios for all kinds of art--including sculpture, ceramics, photography, drawing and painting, and digital arts. There will even be a TV production studio and a cafe. PFAC's gallery, with two-story high walls, will take up most of the second and third floors, but there will also be galleries for CNU's student work on the second floor. The first floor will house an art history lecture hall, museum shop, and PFAC's hands-on gallery for school children (pp. 1 & 8).
Dominating the new building are what the Daily Press describes as the building's "highlight"--three "tall, staggered glass domes" (p. 8). Perhaps they are meant to balance and contrast with the more formal glass at the other end of Ferguson Center's colonnade. Or maybe they are meant to echo, in glass, the metal domes of other campus buildings. Or to make us think. The short white walkway to the right will lead to the parking lot beside Freeman Center; the short walkway to the left will lead to the large lawn between Ferguson Center and Warwick.
The bricked wall area at the back of the building will no doubt be the service area. The large black gate with a roadway will probably be used, for example, by trucks that deliver and take away art works for the various exhibits to be displayed in the center. The black gate at the other end is perhaps for access to the electrical, heat, and air conditioning units housed inside the small buildings. There are footpaths to the area also, perhaps for students' use.
The above map shows that the planned Fine Arts Center (dark brown here) will completely replace the visitor's parking lot located behind Pope Chapel. Notice, however, that new parking will be created both in front of the colonnade's driveway and also very close to, and parallel with, Warwick Blvd. A row of trees (or bushes) will block the view of that parking lot for those using the two centers.
Looking closely at the walled area behind the building, you can see two thin rectangular green areas close to the building. They are probably what the Daily Press mentioned as the "outdoor student work areas" off the first floor that will be used for creating "3-D art" like sculptures (p. 8). The much larger green space--between the two buildings, and behind the colonnade--apparently represents the "outdoor museum space" for hosting sculptures and events, also mentioned in the article (p. 8).
The Old Shared Homes
| | |
| --- | --- |
| | Christopher Newport College and the Peninsula Fine Arts Center were close siblings who took their first steps within a year of each other in the same home: the J. B. Daniel building on 32nd Street in downtown Newport News. CNC was born there in 1961; PFAC, in 1962, under its first name, the Peninsula Arts Association (PAA). The old building, formerly an elementary school, was where the siblings spent their formative early childhood years from toddlers to kindergarteners. I joined the English faculty CNC's third year (PAA's second) and remember seeing ladies setting up exhibits of paintings and drawings in the wide first floor hall. |
In the fall of 1964, CNC and PAA moved together up Warwick Blvd. to their new shared home on Shoe Lane, Christopher Newport Hall (photo left above), the first building on the college's permanent site. They shared this home while continuing to mature in their separate but compatible ways in the 1960s. The photo right above, from the Cunningham family collection, shows CNC's first president, H. Westcott ("Scotty") Cunningham (right) and two unidentified members of PAA discussing a painting to be displayed in the association's first art gallery--a room on the first floor of Newport Hall. Also during this decade, Mrs. Cunningham ("Cecy") served on the Board of Directors of PAA.
In the 1970s and 80s, CNC and PAA became young adults eager to expand territories and gain independence. During this period, CNC grew from a 2-year branch of the College of William and Mary to a 4-year institution, awarding its first baccalaureate degrees in 1971 and then gaining full independence from William and Mary in 1977. Less than two decades later, the College became Christopher Newport University.
| | |
| --- | --- |
| Meanwhile, out-growing its first home, PAA settled temporarily in several venues, including in Hilton Village. Born as a chapter of the Virginia Museum of Fine Arts (VMFA), in 1983 it became an affiliate of the VMFA and was renamed the Peninsula Fine Arts Center. Soon Newport News Shipbuilding gave the PFAC an old building in the Mariners' Museum's Park which it renovated and expanded and transformed into a home (photo right) almost next door to CNC. | |
In 2020, the wheel will come full circle. CNU and PFAC, hoping for some years to share a home again, will do so, benefiting not only both of them but also the Peninsula and the Commonwealth of Virginia.
__________________________________________
We welcome your FEEDBACK. Send to
cncmemories61_71@yahoo.com.
Published July 21, 2017
Dick Lamb and the Microphonies
In the mid-1950s, when television competition was killing AM radio stations everywhere, WGH began its upward swing by shifting its focus to round-the-clock popular music and news. The era of the disc jockey as star was beginning, and WGH's "personalities"quickly maintained a high profile not only on the air, but at such public places as skating rinks, high school ballfields, shopping centers and, once Ratcliffe Gymnasium was completed, at CNC. Tidewater experienced a new (this time welcome) invasion of "Redcoats"—popular deejays in their bright red WGH blazers.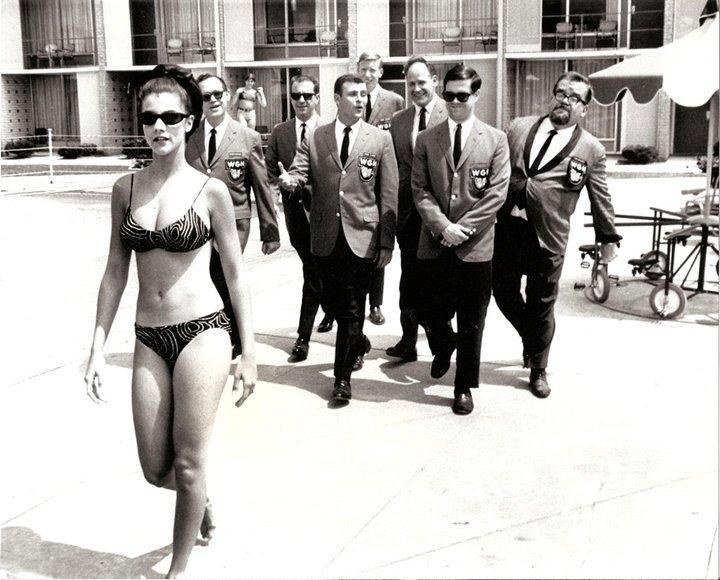 WGH personalities following bikini-clad Teresa Stallings in 1967 at the Hampton Holiday Inn pool area. L-R: George Crawford, Dave Cummins, Dick Lamb, Gene Loving, Roger Clark, Jim Lawrence, & Bob Calvert. Photo from "WGH Radio—Station of the Stars," accessed through former WGH deejay Dale Parsons' website: http://alohanews.com/wgh.htm.
A major one of these "personalities" was

Dick Lamb

(born

Norman Beasley)

, who joined the station in 1958. Already a husband and father at age 20, Norman was quite willing to use the on-air name

Dick Lamb

so that WGH could use the jingles prepared for the actual Dick Lamb, who had turned down the position. The station introduced this personable, energetic and handsome new deejay "at a big show broadcast live from Skate Land, on Jefferson Avenue in Newport News." And the audience, Dick recalls, with genuine surprise, 'treated me like some kind of movie star!'
("Dick Lamb Remembers His Years at CNC," in Memories of Christopher Newport College: The First Decade, p. 99).
It was the beginning of a highly successful career. And by the mid-1970s, Norman would happily become, legally, Dick Lamb.
In 1959, wanting a college education, Dick enrolled as himself at William and Mary, but he dropped out after a year because commuting, while also managing his full-time career and a growing family, became impractical. Then CNC was created and, in the fall of 1964, moved to Shoe Lane. It had two buildings by 1965 (Newport and Gosnold) and plans for more very soon. Living then on Whits Court, in the Deep Creek area of Newport News, Dick was delighted, because he now had a college "almost close enough to walk to!" He enrolled for the 1965- 66 session under his legal name, but was quickly recognized on campus as Dick Lamb, and it is under this name that he was identified in CNC's yearbook pictures shown here

("Dick Lamb Remembers," Memories, pp. 99-100).

Dick has "Nothing but good memories" of his time at CNC, recalling he "had outstanding teachers and found new friends, at a school that was right in my backyard." His favorite teachers were Spanish professor

Mrs. Doris Reppen

and history professor

Mr. Usry

("Dick," pp. 100-101)

. He did very well academically and also enjoyed participating in intramural sports and watching CNC's basketball games. He even served at times as sports announcer for some of those games.




CNC student Dick Lamb navigating an icy CNC walkway in the 1965-66 academic year. 1966 TRIDENT, p. 11.

Dick announcing a home basketball game at CNC. 1968 TRIDENT, p. 48.
A special memory of Dick's is that of being co-captain, with

Mike Payne

, of CNC's All Star Flag Football Team, coached by

Bob Hunter

, husband of biology professor

Georgia Hunter

. The team famously beat Old Dominion's best flag football team 28- 8. Dick, who was a quarterback, made one of the touchdowns—"not bad," he recalls, "for a 28-year-old father of four." The CNC team "felt like we had beaten Southern Cal"
("Dick Lamb Remembers," pp. 100-101).
Dick had a framed copy made of this team photo below, from page 81 of CNC's 1966

Trident.
Dick Lamb, WGH No. 3, watches the action under the basket at CNC's Ratcliffe Gymnasium. 1968 Trident, p. 8.

WGH formed a basketball team, the

Microphonies

, in the 1960s, with funds raised from the team's well-publicized games donated to local charities or to the hosting schools. The players were primarily the WGH personalities — Dick Lamb, Bob Calvert, Gene Loving and others. They played against teams such as those formed by high school teachers or sometimes teams from other radio stations. Almost always the Microphonies lost. But they drew big crowds, entertained them well, and raised cash for good causes. Once CNC's gymnasium opened, in 1967, they also played there (see photo at left). Below are some excerpts from WGH's Top 30 sheets with more photos of and information about the Microphonies. These photos are from "WGH Radio—Station of the Stars," accessed through former WGH deejay

Dale Parsons

' website: http://alohanews.com/wgh.htm

.



| | | |
| --- | --- | --- |
| From WGH Top 30 sheet of 3/29/64. | From Top 30 sheet of 12/12/65. | From Top 30 sheet of 4/24/66. |
Published December 13, 2013
Republished July 21, 2017
WGH AM Radio, Part 1:
"Station of the Stars"
in the Sixties and Early Seventies
When I moved to Newport News to begin my teaching career at CNC (1963-64), I quickly learned that the number one AM radio station on the Peninsula (and soon, in all of Tidewater) was WGH 1310, "Station of the Stars," which played all the "top hits" in America. Not only was WGH very popular with students from pre-teen to college age, but it was also quite popular with many of their parents and, yes, even their teachers—especially the younger ones.
The 1960 WGH air staff. L-R: Jim Stanley, Don Owens, Bob Calvert, Dick Lamb, & Program Director Gene Creasy.
I recently found a website about WGH ("

W

orld's

G

reatest

H

arbor") put together by

Dale Parsons

, who worked at WGH in its heyday and now lives in Hawaii. This website—

http://alohanews.com/wgh.htm

—is so packed with information and photos that I could not tear myself away from it for many hours, over several days, and I still haven't explored all of it. If you were a fan of the old WGH, I recommend this site highly. Among other things, there is a detailed history covering the station from the late 1920s through 2005, and there are audio links to jingles and interviews of the station's personalities.

All of the photos in

Part 1 of this article I copied from Parson's website. He carefully credits there all materials provided to him by others. Our own

Dave Spriggs

also created an informative article on WGH on the Newport News High School 1965 website—

http://nnhs65.com/wgh.html

. I recommend that site also.

Since

Dick Lamb

not only remains a major radio personality in Tidewater but is also a CNC First Decader and the subject of an interview article in Memories of Christopher Newport College, The First Decade

(pp. 98-101), I will include four photos of him from the 1966 and 1968

Trident

yearbooks in

Part 2

of this article.




Dick Lamb with fans outside the remote WGH studio at Newmarket Shopping Center, 1960.

Dale Parsons in 1971.
| | |
| --- | --- |
| WGH Production Studio ca. 1960. The man is unidentified. The woman is Mary Copes. On his website (link above) Parsons gives a detailed discussion of the equipment shown in this picture. Go to the PICTURES tab. | WGH morning personality Jim Stanley is shown reviewing a song in the music library. |
| | |
| --- | --- |
| Glenn "The Turtle" Lewis in the main AM studio. The wall calendar dates the photo as March of 1966. | Bob Calvert in the AM studio, Jan. 21, 1964. His "Baron Bebop" persona was the inspiration for Robert Smith's "Wolfman Jack" character in the early sixties at WYOU radio in Newport News. |
| | |
| --- | --- |
| The WGH building around 1960. | The WGH Showmobile (1965 photo), contained a complete studio. |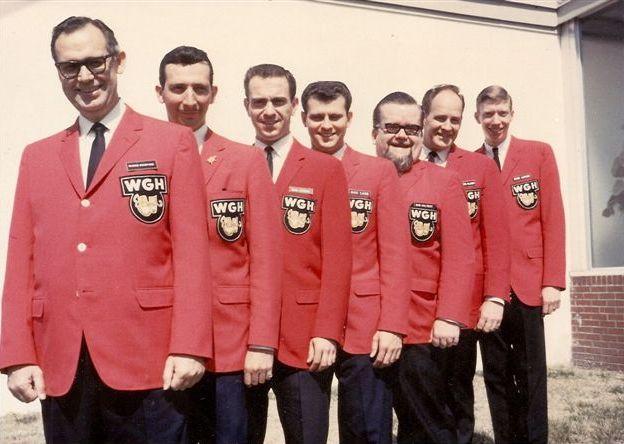 WGH personalities posed in front of the old Mercury Blvd. studios ( Hampton ) in 1966. L-R: George Crawford, Glenn ("The Turtle") Lewis, Dave Cummins, Dick Lamb, Bob ("Baron Bebop") Calvert, Roger Clark, & Gene Loving.
| | |
| --- | --- |
| WGH began distributing weekly music survey sheets ("The Top 30") in the latter 1950s. "Wax to Watch" at each sheet's bottom was quickly a regular feature, with WGH's popular deejays taking turns picking potential winning records. This sheet is from 1959. | By 1962, the "Top 30" sheets were wider, including a weekly "Platter Princess" at the top, picked from a Tidewater area high school, and brief music news items, usually with photos. This particular sheet's "Platter Princess," Joanne Dispenza (now Smith), is one of our 1963 CNC First Decaders. |
| | |
| --- | --- |
| This Jan. 5, 1964 "Top 30" sheet introduces 2 new groups that were beginning to get attention—The Beatles and The Supremes. WGH deejay Keith James listed "I Want to Hold Your Hand" as that week's "Wax to Watch." Two weeks later (Jan. 19), it was the No. 1 hit on the "Top 30" sheet. | The "Platter Princess" on this Sept. 27, 1964 "Top 30" sheet, Phyllis Keith (now Fritschi ) is one of our 1965 CNC First Decaders, a Riverside nursing student who earned her RN in 1967. Do we have any more First Decaders who were "Platter Princesses"? And how were they chosen for that honor? The 3 short items in the box are interesting bits of music history. Could you have identified that first face? |
Published December 6, 2013
Re-published July 7, 2017
A Memories Book Bit:
Edna Carney: CNC's First Secretary
by A. Jane Chambers
Excerpts from pages 146 & 150-151*
When Registrar Jane Pillow, a W&M alumna, ... joined CNC in July 1965, there were already three of her family members on board. As Jane said, it was truly "a family affair." Her mother, Edna Carney, hired in 1961, was Scotty Cunningham's secretary; Jane's husband, Graham Pillow, hired in 1962, was teaching physics and computer classes, and her sister-in-law, Brenda Carney, was working toward her A.A. degree (1966) and would later become a member of CNC's first four-year class, earning her B.A. in History in 1971.
| | |
| --- | --- |
| President Windsor sometimes described [Mrs. Carney] as "the real president of Christopher Newport." Jane Pillow recalls that her mother came to CNC because her other daughter, Ann Rowe, Scotty's secretary in W&M's Admissions Office, didn't want to leave Williamsburg to follow Scotty down the Peninsula. Ann recommended her mother, then a full-time secretary for the Adult Education Department in the Newport News Public Schools. Scotty hired her promptly after her interview. | Edna Carney at her desk in Smith Hall (1970 Trident, p. 17). |
At first, she had to perform as everybody's secretary (there was no other)--plus receptionist, registrar's assistant, switchboard operator, copy machine operator--even caterer by the late sixties. Her daughter-in-law Brenda Carney, a CNC student then, remembers she was "a wonderful southern-style cook" and voluntarily prepared delicious lunches for the Board of Visitors.
Edna often chauffeured Brenda to and from CNC, so Brenda spent time in her office, studying between classes or waiting to catch a ride home. She had a close-up view of her mother-in-law at work and remembers she was "an industrious, competent woman" with a "wonderful command of the English language" and "impeccable" typing: "When I heard the word 'Drat!' I knew she had discovered a typing error."
Jim Windsor remembers Mrs. Carney would sometimes correct documents he wrote--"not just the spelling or grammar, but whole sentences. She never mentioned what she did, and neither did I. Occasionally, I would tease her just a little and say something like, 'I don't remember saying that, but it sounds good.' I didn't call attention to her editing because it was usually better than mine." And when people sent him poorly written memos, he "would sometimes get them from Edna with errors marked in red and a grade attached--usually a D-."
When Edna Carney retired, the Board of Visitors recognized her outstanding contributions to CNC at the May 15,1977 graduation ceremony, presenting her with the Distinguished Service Award, a bronze medallion of the College seal. After her death (January 20, 1997), Jim Windsor delivered the memorial service eulogy.
______________________________________
* "The People Within: Smith Hall in 1967," by Jane Chambers, in Memories of Christopher Newport College: The First Decade, by A. Jane Chambers, Rita C. Hubbard, & Lawrence B. Wood, Jr. (Hallmark, 2008). TO ORDER BOOK: Send check for $20 made out to Jane Chambers to: Dr. Jane Chambers, 15267 Candy Island Lane, Carrollton, VA 23314. The money (minus mailing cost) is donated to the CNC First Decaders' Treasury.
______________________________________
We welcome your FEEDBACK. Send to
cncmemories61_71@yahoo.com
OR cnc6171@cox.net.
Published July 7, 2017
Re: WGH AM Radio, Part 1: "Station of the Stars" in the Sixties and Early Seventies
From Curtiss Pittman: Jane, with all your connections, would you see if you can locate a copy of the WGH Top 30 sheet from, I believe, Nov. 1964 or near that date. I had won a Honda motorcycle from WGH and Dick Lamb called me at home with the news. I can relate all the details about the contest, the presentation, and all the rock and roll stars I got to meet when they gave me the keys. My picture was on the cover of the Top 30 sheet sitting on the Honda and receiving the keys from the Hondels, who sang the song "Little Honda."
Editor: Curtiss, I've not been able to locate that WGH Top 30 sheet with your picture, alas! Do you have any other photos of you and that Honda motorcycle? This event would make an interesting story for our website!
---
Re: Why the Name Shoe Lane? Historical Street Names in the CNC/U Area.
From Mike Coburn: Jane, a lady at your table raised the Shoe Lane name question as I was passing. I stopped and gave a partial answer based on my memory from many years ago of hearing the same question. After the reunion weekend at CNU I researched further and found confirmation and some additional facts. I've always enjoyed history. You did a nice job with the article and would have earned an A [if a CNC student in the sixties].
From Martha Stevens: I love to read city history and be able to picture in my mind the actual places described in the history. This was great. Thanks so much.
From Rachel Moore Deans: My grandfather Frank Moore grew up on the Moore farm that is now [a part of] CNU.
Editor: There were 34 pieces of land that made up the 70-acre purchase for the original CNC campus in 1963. Researching who owned all of them would be very interesting. Any volunteers?
---
Re: CNC's First Fraternity, Chi Psi Omega: A Long-Lasting Brotherhood.
From Allen Thompson: Great article about the fraternity. I was a member of Apprentice School fraternity Pi Sigma Phi in the early 70's and we used to play them in sandlot football at Huntington Park.
---
Re: Living with Professor Robert M. Usry
From Charlie Snead: Mr. Usry invited me to remain after class the day he returned our Western Civilization 101 exam which I'd barely passed. He invited me to a tutoring session at his home. He had several student boarders and sometimes offered them study suggestions. That evening I was camped out at his dining room table. He started with "How do you study? " An hour later I'd had a lesson that refocused if not saved my career. I started making A's on my history tests and almost had a solid A average. In late April my pattern was destroyed with a B on a test with all the right answers. My complaint was met with a straight face and dry comment: "A students can spell better than THAT !"I settled for a B and honor roll at CNC and later W&M. I certainly learned a lot more from Mr. Usry than not to drop my pencil in lecture hall and miss 100 years.
---
Re: Computer's Gender?
FROM Dalton Blankenship: Loved the computer discussion. But I would have voted for the guys!
________________________________________
We welcome your FEEDBACK. Send to
cncmemories61_71@yahoo.com.
Published July 21, 2017
Dan Piraro's Bizarro Cats
Your DECADER committee ALWAYS enjoys feedback on items that appear on this website. The feedback can be positive or negative...doesn't matter. It is just super for us to know that you are actually visiting YOUR website and have something to share.
Please don't hesitate to send us an email with a comment...we LOVE to hear from you!
(There is an underscore between 61 & 71 in the web address above)
Donations
to our Treasury are gratefully accepted.
Make out checks to
CNC First Decaders
. Mail them to
Sonny Short, FD Treasurer,
12738 Daybreak Circle,
Newport News
, VA 23602.
This site is NOT affiliated with Christopher Newport University